Bites from Andrea: 10X Health Expander
I just got back from my quarterly meeting in Vancouver with my entrepreneur group Strategic Coach. One of the thinking exercises that our coach had the group do was what was called the "10X Mind Expander™."  The goal was to visualize and articulate a bigger and substantially larger future (with respect to freedom of time, finances, purpose or doing what you love). 
As an advocate of thinking in small steps to achieve a goal, what I liked about this exercise is that it pushed me out of my comfort zone to think BIG. Something really interesting happens when we think 10 times bigger and better rather than just a little bit better or twice as good. The ability to stretch our thinking pulls our mind in an exciting direction.
I've been thinking about how this type of thinking may be helpful with respect to health. I've been percolating what 10X better health looks like for me and come up with a few new health goals for myself related to my journey with mindfulness meditation, road cycling and culinary training. 
What does 10X better health look like to you?
Think about all aspects of your health from a physical (such as nutrition, fitness etc), mental, social, spiritual and emotional aspect. I would love to hear your thoughts on the blog below (or drop me a personal email here).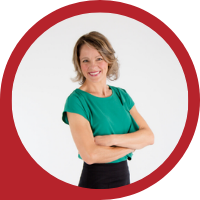 About Andrea Holwegner
CEO, Registered Dietitian, Counseling Practice Director & Professional Speaker
Andrea the «Chocoholic Nutritionist» is founder and CEO of Health Stand Nutrition Consulting Inc. since 2000. She is an online nutrition course creator, professional speaker and regular guest in the media. Andrea is the recipient of an award by the Dietitians of Canada: The Speaking of Food & Healthy Living Award for Excellence in Consumer Education....Read more