3 Myths About Healthy Grocery Shopping
The Registered Dietitians in my nutrition counselling practice each specialize in unique family health, medical issue and sport requirements but all have clients that share common myths about healthy grocery shopping.
Here are some of the most common misconceptions you need to know about how to shop for healthy food:
Myth: It costs more to eat healthy
Fact: Healthy eating doesn't necessarily cost more
The University of Guelph Food Institutes 2016 Food Price Reports the average Canadian household will spend up to $345 more on food overall in 2016 regardless of what you are eating.
But does it cost more to eat healthy? In a 2013 review article in the British Medical Journal, although diets rich in fruits, vegetables, fish and nuts did cost more than diets high in processed foods, meats and refined (white) grains, the difference was only about $1.50 more per day.
Perhaps the more important thing to remember is eating out and heavy reliance on prepared meals is a bigger contributor to a hefty grocery bill than learning efficient ways to cook from scratch. Cooking healthy meals at home also offers a clear health benefit, improves family connectedness and teaches your kids essential cooking skills important for their future wellness.
Take advantage of online apps such as Flipp or RedFlagDeals to compare grocery store sales and flyers. Plan more "meatless Monday" options and vegetarian meals using legumes. Adjust and swap ingredients in recipes to use seasonal items. For example, if you are making a spinach salad recipe that calls for feta cheese and strawberries which were overpriced this week, adjust your recipe by keeping the spinach and vinaigrette but instead use sale items such as sliced oranges and sunflower seeds.
Myth: Buying in bulk is best
Fact: Buying small is sometimes a better option
While there may be some benefits to buying big, there are also some potential economic, environmental and health drawbacks. 
The Toronto Food Policy Council suggests about 40 per cent of food produced in Canada annually is wasted and close to half of this occurs in homes. On average Canadian households waste a surprising $28 of food each week.
Food waste is a significant under-emphasized food budget concern. It is also often overlooked as a key personal way to boost environmental sustainability, given food waste contributes to higher carbon and methane production.
Also note food psychology research shows we are often subject to sensory specific satiety, which states that our senses (taste, smell and sight) get overwhelmed and numbed when they experience the same repetitive stimulus. This means that despite it being more cost effective to buy a ten-pound bag of oranges on sale, you may find your family eats less fruit in a week compared to when you buy ten pounds of six different types of fruit. The more variety, the more we eat.
Researchers have also learned that the more we have stockpiled, the more we potentially will also eat. This is good news if you are falling short in eating enough veggies and decide to buy veggies in bulk and place a large vegetable tray on the counter to snack on after work each day. This is bad news if your spouse purchased colossal family sized packages of your favourite potato chips in the cupboard and you are trying to cut back.
Myth: Grocery shopping is time consuming
Fact: Disorganization is time consuming
One of the most common complaints we hear from our nutrition-counselling clients is that grocery shopping takes too much time. As a result of this thought pattern, two problematic things can happen. 
First, during hectic weeks full of family and work commitments you may find yourself skipping shopping altogether. This means there will be limited healthy fresh foods available in your home and more potential for heavier restaurant meals and convenience foods sneaking into your diet.
Alternatively frequent short trips to the store for quick grabs results in initial time saving but ultimately more time spent per week shopping than a single well planned shop. It also means that you will be tempted to succumb to unhealthy impulse buys and overspend since the more frantic our shopping, the more mindless your purchases will be.
Grocery shopping isn't time consuming, disorganization is. Spend the time once to develop a master list of all the staple foods and seasonal items that your family eats. Use an app or go with what works for my family and is often more successful for many of our clients: type up a custom list organized by grocery store section and leave a stack of photocopies in your kitchen so anyone in your home can add to items as they run out.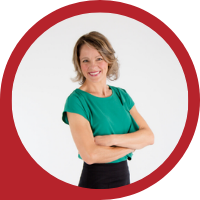 About Andrea Holwegner
CEO, Registered Dietitian, Counseling Practice Director & Professional Speaker
Andrea the «Chocoholic Nutritionist» is founder and CEO of Health Stand Nutrition Consulting Inc. since 2000. She is an online nutrition course creator, professional speaker and regular guest in the media. Andrea is the recipient of an award by the Dietitians of Canada: The Speaking of Food & Healthy Living Award for Excellence in Consumer Education....Read more