3 Ways to ENERGIZE and Fight Weekday Fatigue
How to Eat to Elevate Energy and Productivity
Listen Here:
Now more than ever people are struggling with fatigue and a general feeling of overwhelm. While it is no surprise that nutrition is directly related to boosting energy throughout your day and is highly relevant for elevating productivity at work, eating well becomes one of the first things to go when stress and overwhelm take over.  
Chances are you likely have a sense of what to eat for good health but if you have failed to follow this when times get busy at work and in your personal life, here are three habits that lead to success:
Use visual triggers to eat more of the good stuff
We often eat with our eyes instead of our stomachs (what I refer to as the "see-food diet"). When we are time strapped and distracted during times of stress this becomes even more likely since sweets and savory snack foods become that much more appealing. To avoid having to pack things daily, once per week place convenient healthy foods that you will visually see at home, work and in your vehicle. Place a colorful fruit bowl on your desk at work. Each week place a large raw veggie and dip tray at the front of the fridge as the first things you see when you open the fridge. Leave individual snack packs of dried fruit and nuts and water bottles in your car as quick grabs so you don't arrive home "hangry."
2. Target timing and time-outs
When we are exhausted and stressed, it is easy to go about our day on autopilot and mindlessly either under or over eat. We can also forget to drink enough fluids which means we simply can't function at our best given our body is made up of approximately 50% water (our muscles are made up of about 70% water. Eat every three to five hours (three meals and up to three snacks per day) to ensure you are fueling your brain and body with productive energy.
Taking one-minute mindful check-ins throughout the day and simply asking yourself "what do I need?" sounds so basic but profoundly impacts both mental and physical health. Short time-outs and slowing down allows us to assess if our hunger is a physical food need or if we are emotionally hungry. If you struggle to remember to take these time outs add a notification on your phone or use a habit formation app such as Strides to help set goals and track your progress.
3. Combine carbs and protein
One of the most important aspects of effective energy and mood management to combat stress is to ensure you balance your meals and snacks with both carbohydrates AND protein. One without the other has a negative impact on your overall energy.  
Your brain runs exclusively on carbohydrates. While portion sizes of carbohydrate rich foods such as grains, starches and sweets are important (since it is common for many people to overeat these items) you do not want a carb-free diet. Following a very low carbohydrate diet that skimps on grains, legumes, vegetables and fruits can lead to fatigue, depression, anxiety and poor long term health.
Meals without protein simply do not keep you full and sustained with vital energy and can lead to frequent hunger and cravings. Protein is found in foods such as meat, poultry, seafood, eggs, legumes, cheese, milk, yogurt, tofu, nuts, seeds and nut butter. Make sure to have a source of protein with all your major meals and snacks to feel your best.
Additional resources: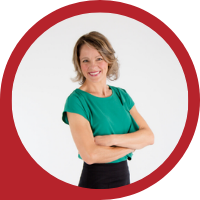 About Andrea Holwegner
CEO, Registered Dietitian, Counseling Practice Director & Professional Speaker
Andrea the «Chocolate Loving Nutritionist» is founder and CEO of Health Stand Nutrition Consulting Inc. since 2000. She is an online nutrition course creator, professional speaker and regular guest in the media. Andrea is the recipient of an award by the Dietitians of Canada: The Speaking of Food & Healthy Living Award for Excellence in Consumer Education....Read more