5 Ingredient Chocolate Chia Pudding
A healthy boost of calcium, protein, and fibre with a soulful touch of chocolate!
If you want a delicious and filling snack that is high in calcium, protein and fiber try this chia pudding, you won't be disappointed! It features the best of both worlds where you can eat healthFULLY and soulFULLY. Prepare it the night before, and try it as a quick breakfast or snack when you're short on time. Don't forget to top it with fresh or frozen fruit, any nuts, seeds, coconut and chocolate shavings!
Makes 1 serving
What You Need
Chocolate Chia Pudding Ingredients
1 tbsp cocoa powder 

 

1 tbsp maple syrup

 

1/2 tsp vanilla 

 

1/2 cup almond milk (can also use cows milk or other milk alternative)

 

2 tbsp chia seeds 

 

toppings as desired: fresh or frozen fruit, nuts and seeds, coconut, chocolate shavings 

 
How to Make the Chocolate Chia Pudding Recipe
In a medium bowl combine all ingredients, except for the toppings. Whisk together until combined. 

 

Let sit for 15 minutes and then whisk again. Place in the fridge to set for up to 4 hours or overnight. 

 

Take out of the fridge and add toppings as desired, serve and enjoy.

 
Nutrients per serving
Topped with raspberries, coconut and pecans: 
300 Calories
36 g Carbohydrates
7.5 g Protein 
16 g Fat
14.6 g Fibre 
Don't miss out on healthy new recipes or nutrition article and sign up for our newsletter, today! 
Sound Bites is a weekly nutrition newsletter that goes out to thousands of subscribers. Written by our team of registered dietitians and nutrition experts, it includes articles, videos, tips and recipes.
As a special BONUS, we'll email you our popular '51 Healthy Snack Attacks' PDF.
Looking for more delicious and healthy snack ideas? We got them!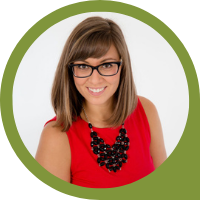 Shauna Kime
Registered Dietitian & Online Nutritionist - Weight Concerns, Women's Health, Diabetes & Meal Planning
The first thing you will notice about Shauna is her contagious optimism, energetic personality and zest. Shauna loves teaching and has a heart full of compassion and empathy for helping clients work through health concerns. Shauna specializes in healthy cooking, diabetes, cardiovascular health, weight concerns and womens health. Read more