5 Strategies to Increase Teleworker Participation in Wellness Programs
Workplace Wellness for Remote Workers 
Flexible jobs that offer workers the opportunity to work remotely are becoming increasingly commonplace. Some companies allow employees to telecommute full-time, while other employers give staff the option to work from home occasionally, and still other workplaces have positions that require remote workers.
The benefits to telecommuting are well-established for both employers and workers:
Remote workers may be more productive due to less distractions.
Employers enjoy decreased overhead costs.
Telecommuting can reduce employee stress and increases morale.
Businesses can contribute to the environment, go green and lessen their carbon footprint.
The teleworking trend is growing. 37% of US workers (2015) and 11.2% of Canadian (2011) employees work remotely part- or full-time, and research indicates millennial workers prefer flexible work arrangements. Corporations who are transitioning to incorporate remote workers face administrative changes as they expand their traditional employee benefit packages to engage telecommuters. Many employers offer workplace wellness programs based on an on-site workforce, including:
on-site health fairs
in-house wellness and nutrition counselling and consulting services
employee wellness and nutrition resources such as brochures, pamphlets and booklets
everyday healthy snacks and nutritious catered meals
In reality, statistics demonstrate that remote workers may be your easiest employees to engage in your workplace wellness program:
telecommuters prioritize their own well-being more than office-bound employees
The wellness needs of telecommuters and your onsite employees may be very different and have very different engagement issues. According to HR Dive, telecommuters who receive training on work/life balance are more likely to participate in corporate wellness programs.
5 Strategies to Increase Teleworker Participation in Wellness Programs 
1. Survey Your Workforce
Just as all companies are not the same, all employees are not the same. Ask your on-site and remote workforce what are their wellness needs, goals and interests are. It is no surprise that responses will greatly differ depending on demographics, job responsibility and nutrition and wellness knowledge.
2. Educate Employees
Provide new employees training on how to use your wellness programs both remotely and in-house during the onboarding process, then provide quarterly wellness program benefit updates and reminders to all employees about what services are available.
3. Design Flexible Incentives
Many wellness programs provide incentives to employees who participate. Design an incentive program that is appealing to teleworkers also, including:
gym membership discounts to complement an on-site gym
health challenges that include remote workers
healthy snacks sent to their home
4. Recognition for Wellness Achievement
Many on-site employees don't know what it's like to work from home. Find leaders in your organization that manage a healthy lifestyle and feature them as success stories with real life examples of how they are navigating healthy eating, stress management and keeping active.
5. Implement an Online Wellness Program
The internet has changed the way we work, the way we learn and the way we socialize. Online courses, workshops, webinars and live broadcasts give employees to learn and interact from any location; modular courses provide wellness expertise to employees at a time most convenient to their schedule.
With everything moving to the Internet these days – the Web is used by 74.1 percent of the U.S. population, according to Nielsen Online – it makes sense for a company to move some of their wellness education programs and information online. Through the Web, employers can deliver the same content to their entire employee population at any time, no matter where they work. Online solutions can also deliver the same information at a fraction of the cost of traditional programs. 
NEW: The Pursuit of Healthiness™: Andrea's Online Nutrition Course
Nutrition has an immediate and significant impact on employee productivity. I am launching an online nutrition course for individuals and employees as part of a corporate wellness program to address some of the biggest challenges that insanely busy people face when personally trying to eat well and feed a family.
Would an online nutrition course covering the following be of interest to your employees?
1. 5 Module self-directed online nutrition course:
Appetite for change (define a clear vision of the best healthy eating plan that will work for your food personality and lifelong goal for health, energy and managing a personal best weight).
Foundation building (clear simple science guidance on what, when, where, why and how much to eat)
Success at home (how to set up your home for success, speed up meal planning and create healthy meals that don't suck)
Success at work & on the go (how to eat well away from home, stay productive at work and find tasty meals and snacks to eat out or pack on the go)
Living deliciously! (develop a fun and flexible relationship with food, understand hunger, cravings, emotional eating and intuitive eating)
2. Resources: download simple worksheets and resources to put all your plans into action
3. Support: attend optional live Q & A webinars/phone calls, ask questions and/or seek support in a members-only area.
If you are interested in finding out more about this course or have feedback on how I can ensure I develop the best course to suit your needs please contact me.
Sign up to be added to our Nutrition Course Waitlist to find out more about this course when it launches: Pursuit of Healthiness Course 
a version of this article appeared on LinkedIn 
Find out more about Andrea's workplace wellness solutions, webinars, nutrition workshops and FUN filled programs she delivers as a motivational keynote speaker here: Workplace Wellness & Speaking 
About Andrea Holwegner, BSc, RD: 
Nutrition and Corporate Wellness Expert; Workplace Productivity Expert, Food Industry and Healthy Living Consultant, Professional Speaker and Media Expert; CEO Health Stand Nutrition Consulting Inc.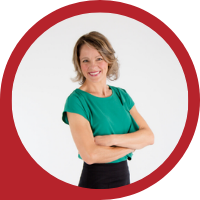 About Andrea Holwegner
CEO, Registered Dietitian, Counseling Practice Director & Professional Speaker
Andrea the «Chocoholic Nutritionist» is founder and CEO of Health Stand Nutrition Consulting Inc. since 2000. She is an online nutrition course creator, professional speaker and regular guest in the media. Andrea is the recipient of an award by the Dietitians of Canada: The Speaking of Food & Healthy Living Award for Excellence in Consumer Education....Read more