Apex PR Follow February: Chocoholic Dietitian Andrea Holwegner
Thank you to Apex PR for featuring Andrea Holwegner as part of their "Follow February"!  Please see the full article below:
1. What topic, person or hashtag do you follow religiously?
"I love anything to do with simple, fresh ingredient cooking. For cooking skills in general I am a big fan of Mark Bittman. His "how to cook anything" & "how to cook anything FAST" are must have resources for any cook. I use ALL of his cookbooks and love the apps.

I also love ALL of Shelley Adams Whitewater cookbooks as the philosophy of fresh, colourful and creative is what she is all about! I am also looking forward to seeing what my colleagues at the recently launched Dietitians of Canada Member Blog @DCmemberblogs are cooking up!"
2. Why do you follow those blogs?
"I follow the topic of cooking in general since I am a foodie and my husband is a wine importer so we love to pair beautiful meals with delicious wines. I also believe the single biggest issue facing my field as a dietitian is the lost art of cooking skills. Often my clients need culinary tips even more than nutritional guidance to achieve success."
3. Why should others follow those blogs?

"My philosophy is about eating FULLY (healthfully and soulfully). Healthy eating can also taste delicious and include ALL foods (even chocolate!). You can achieve health without guilt or complexity. If you are looking to improve your health chances are enhancing your general skills as a cook is as important as learning about nutrition."
These questions with Andrea Holwegner were compiled by Rohini Mukherji. Who or what do you follow? Let us know here or on Twitter. Also check out what others said.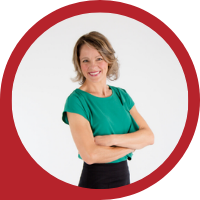 About Andrea Holwegner
CEO, Registered Dietitian, Counseling Practice Director & Professional Speaker
Andrea the «Chocoholic Nutritionist» is founder and CEO of Health Stand Nutrition Consulting Inc. since 2000. She is an online nutrition course creator, professional speaker and regular guest in the media. Andrea is the recipient of an award by the Dietitians of Canada: The Speaking of Food & Healthy Living Award for Excellence in Consumer Education....Read more