18 Ways to Enjoy Apples, Oranges & Pears
Ideas to Enjoy Fall Fruits
If you are stuck for ideas on what to make with apples, oranges and pears then this list of 18 ideas can help:
6 Ways to Eat Apples!
There are so many different varieties of apples with some being better for cooking, others best enjoyed fresh and others that can be sliced and do not brown easily. Outside of grabbing apples as a fresh snack here are some other fun ways to eat them:
Apples with "Yonut" dip – Slice apples and dip in "yonut" dip made from a mix of yogurt and nut butter (any ratio of yogurt and nut butter will work – test out more or less and see what you like best).
Homemade applesauce – peel and slice apples and cook in a saucepan with a splash of lemon and cinnamon until done.
Apple crisp – Everyone loves this simple and healthy dessert made with heart-healthy rolled oats (google a recipe or ask a friend or family member for their favorite recipe.
Pork with apples – Grill pork chops, pork tenderloin or a pork roast and serve with fresh homemade applesauce.
Muffins – Add sliced apples to your favorite oatmeal or bran muffin recipe.
Apple cinnamon baked oatmeal cups – try our recipe here
6 Ways to Enjoy Oranges!
Outside of peeling an orange and enjoying it fresh here are some other ways to enjoy the fresh citrus taste of juicy oranges:
Citrus vinaigrette – Add fresh-squeezed orange juice to make a simple vinaigrette (1 part orange juice and 2 parts olive oil) with salt, pepper and Dijon mustard.
Orange smoothie – Blend a fresh peeled orange in the blender with banana, ice and milk for a creamy fresh smoothie.
Make a homemade fruit cocktail with diced fresh pieces of oranges, apples, grapes and melons in an unsweetened tropical juice.
Salad – Add thinly sliced oranges to your salads. Oranges pair well with mixed greens, toasted almonds and a light vinaigrette. Watch this video on how to prepare a salad in under 1 minute.
Couscous – Slice fresh oranges into couscous alongside a pinch of orange zest, cinnamon, cumin, cayenne pepper, diced dates and grated carrots.
Tropical parfait – Make a simple dessert with vanilla yogurt topped with fresh sliced oranges, diced pineapple and coconut.
6 Fun Ways to Eat Pears!
Of course you can eat pears fresh but here are a few other adult and kid-friendly ways to enjoy this fibre rich fruit:
Pear-nut butter toast – Slice fresh pears on top of whole grain toast with peanut butter or almond butter
Pear fruit kabobs – Get the kids to thread pieces of pear with strawberries and cheese cubes for a fun after school snack
Pear tortilla roll up – Spread cream cheese on a whole grain wrap and layer with lettuce, cucumber and turkey.
Cinnamon baked pears – Cut pears in half and remove the core. Sprinkle with cinnamon and a pinch of brown sugar and bake in the oven until soft. Serve warm with a scoop of ice cream or use leftovers on yogurt with granola.
Oatmeal – Add sliced fresh pears, hemp hearts and a drizzle of maple syrup to the top of your oatmeal.
Salad – Add sliced fresh pears to the top of a fresh green salad with vinaigrette and crumbled blue cheese.
Need more Registered Dietitian support?
As Registered Dietitians that specialize in meal planning, weight concerns, emotional eating, eating disorders, digestive health, heart health, diabetes, pediatric nutrition and sports nutrition we can see you in our local Calgary nutritionist office or as an Online Dietitian by phone or video conferencing for virtual nutrition counseling. Find out more about our Dietitian Nutrition Counseling Programs here.
As university-trained Registered Dietitians, you can count on us for credible advice and practical meal planning so you don't have to stress about food anymore. You can achieve a healthy and joyous relationship with food and your body. Let's talk about what this can look like for you. CONTACT US.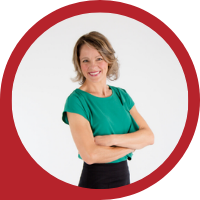 About Andrea Holwegner
CEO, Registered Dietitian, Counseling Practice Director & Professional Speaker
Andrea the «Chocoholic Nutritionist» is founder and CEO of Health Stand Nutrition Consulting Inc. since 2000. She is an online nutrition course creator, professional speaker and regular guest in the media. Andrea is the recipient of an award by the Dietitians of Canada: The Speaking of Food & Healthy Living Award for Excellence in Consumer Education....Read more