April is stress awareness month: what are you juggling?
We all have days when we feel like our personal life, family life and work life deplete us (hopefully if we are lucky – not all at once).  Your personal, family and work needs are like juggling three balls with one being held and the other two up in the air.  The key is having an awareness of which part of you requires attention the most right now. 
It is impossible to multitask focused attention on aspects of your life at every moment. (Trust me I have tried and been left exhausted and stressed out).  What I have loved about studying mindfulness meditation is that life can feel a whole lot less chaotic (and ironically more productive) if you intentionally focus on less. 
Here are 3 challenges for stress awareness month:
1.  Skip eating your meals and snacks in front of the TV or your computer.
2.  Stop checking your phone while you are playing with your kids and truly be present with them.
3.  Turn the radio off while driving and simply just breathe without auditory clutter.
What are your top stress management practices that help you be more present or recharge? Post your thoughts in the comments below. 
If you need help putting your goals into action we can help.  Work with one of our friendly Registered Dietitians at our Calgary office or alternatively by phone or Skype. Explore our Nutrition Counselling Programs.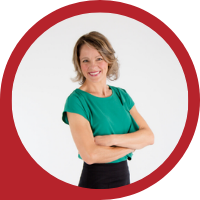 About Andrea Holwegner
CEO, Registered Dietitian, Counseling Practice Director & Professional Speaker
Andrea the «Chocolate Loving Nutritionist» is founder and CEO of Health Stand Nutrition Consulting Inc. since 2000. She is an online nutrition course creator, professional speaker and regular guest in the media. Andrea is the recipient of an award by the Dietitians of Canada: The Speaking of Food & Healthy Living Award for Excellence in Consumer Education....Read more