Are You a Doer or a Dreamer?
By Andrea Holwegner, Nutrition Expert & Professional Speaker
Welcome to the December edition of my new e-newsletter "Bite Me," which you can think of like an A-bomb that will… astonish, agitate, activate & advance you!
Each month I will send you a short reflection to shift your thinking and spark your motivation for wellness change. My message is not only about food, but about LIFE and achieving better balance, energy and health. Enjoy!
Are You a Doer or a Dreamer?
Over the years I have seen two types of clients: doers and dreamers.
Dreamers are the folks that "talk the talk" but don't manage to "walk the talk." Dreamers are wishful thinkers and are waiting for life to slow down so they will have the time and energy they think they need to make the big changes they want. Sound familiar?
On the other hand, doers are the people that take initiative and are proactive with their health. They want to progress and are willing to prioritize their life in a way that supports health and taking care of their most important asset – their body. Doers also avoid binge change, instead choosing to make bite-sized changes that over time help to achieve supersized results.
The truth is life never seems to slow down long enough for us to make all the changes we want to be healthier. Whatever health change you are trying to make, if you don't prioritize it as part of the top things to do this week, you won't get to it.
Start each week by examining where personal health is in your "to do" list. If it's always on the bottom, rest assured you will never get to it since something else will always come first.
You might be thinking that I really don't know your life and that you couldn't possibly squeeze one more thing into your schedule. Often we have to let go of something in order to make space for something new.
What do you need to let go of so you have the time and energy needed to make room for your health?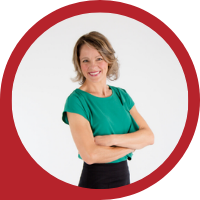 About Andrea Holwegner
CEO, Registered Dietitian, Counseling Practice Director & Professional Speaker
Andrea the «Chocoholic Nutritionist» is founder and CEO of Health Stand Nutrition Consulting Inc. since 2000. She is an online nutrition course creator, professional speaker and regular guest in the media. Andrea is the recipient of an award by the Dietitians of Canada: The Speaking of Food & Healthy Living Award for Excellence in Consumer Education....Read more