Are You a Healthy Weight?
By Andrea Holwegner, Health Stand Nutrition Consulting Inc.
Recently Health Canada released a document called Canadian Guidelines for Body Weight Classification in Adults. This is a useful tool to provide a system for categorizing health risk according to two measures – body weight and abdominal fat. Body weight is measured by BMI (body mass index) which correlates your weight with height. Abdominal fat is measured by waist circumference.
A BMI between 18.5 and 24.9 is associated with the least health risks. Health risks associated with overweight (BMI 25.0-29.9) and obesity (30 and over) include type 2 diabetes, high blood cholesterol and triglycerides, high blood pressure, coronary heart disease, gallbladder disease, obstructive sleep apnea, and certain cancers. Health risks associated with being underweight (BMI less than 18.5) include poor nutrition, osteoporosis, infertility, and impaired immune system. Being underweight may also indicate an eating disorder or other illness.
A high waist circumference (greater than or equal to 102 cm in men and greater than or equal to 88 cm in women) is also a health risk for type 2 diabetes, coronary heart disease, and high blood pressure.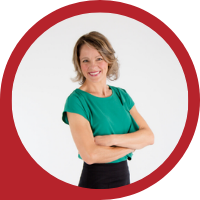 About Andrea Holwegner
CEO, Registered Dietitian, Counseling Practice Director & Professional Speaker
Andrea the «Chocolate Loving Nutritionist» is founder and CEO of Health Stand Nutrition Consulting Inc. since 2000. She is an online nutrition course creator, professional speaker and regular guest in the media. Andrea is the recipient of an award by the Dietitians of Canada: The Speaking of Food & Healthy Living Award for Excellence in Consumer Education....Read more