Are you ready? Tips on how to break through roadblocks to a better you
January is a time when New Year's resolutions thrive and you may be thinking about making some changes. Becoming a parent has reminded me of some significant lessons about nutrition and wellness change.
For many of my friends and family, the decision to have a baby was an easy one. As a career-focused independent female who enjoyed my freedom, however, it took me some extra time to warm up to the idea. People told me I would know when I was ready, but this was a foreign concept to me.
When I found out I was pregnant with my little boy Saul, I started hyperventilating — from excitement but also from feeling overwhelmed. I don't know if I really ever felt ready, but I believed that I could see my future with children and that allowed me to take a step.
Whether the change you're contemplating relates to having children or simply to improving your life in a healthy way, there are similar roadblocks to getting there. Here's how to break through them.
You might not feel ready
I thought that the longer I contemplated becoming a mom, the more ready and prepared I would feel. I also thought I would feel more ready and prepared the longer I sat in my new role as a mom. I am learning that the only way to feel ready is to take a step.
As you move forward with change, the answers about what to do next seem to appear just when you need them. Often, waiting to feel 100 per cent ready will cause you to stagnate for months, if not years.
Think about your future and how you want it to look. Imagine the health, wellness and healthy weight you want. As long as you know where you want to end up, readiness is irrelevant.
Do it your way
I certainly felt like everyone had advice for me about when to become a mother and how to do it the "right" way. At each phase of motherhood I get advice from books and other parents on what to buy, try and do with Saul.
You will find that everyone has advice for you when it comes to eating healthier and improving your fitness. The key is to be open minded, test out a variety of strategies and find out what works for you.
If you hate going to the gym, find an outdoor activity that you enjoy. If you hate cutting up veggies, spend the extra cash on ones that are prepared. If you love a bowl of buttery popcorn in the evenings, make adjustments in your daytime nutrition plan that ensure you the flexibility to have this.
Find cheerleaders
Most of the time as a new parent, I feel like I have no idea what I am doing. Good thing my husband, family and friends are my biggest fans. Surrounding myself with positive people that can encourage me when I feel lost or overwhelmed has been essential for success.
Take a look at your family, friends and co-workers and see if they are helping or harming your ability to manage a healthy lifestyle. You may have people in your life who encourage you to eat a healthy lunch, get your seven to 10 servings of veggies and fruit each day or drink less alcohol. Surround yourself with cheerleaders such as a friend, group or coach who "walk the talk" and model the healthy choices you are trying to make.
You may also have people in your life that sabotage your health directly by coaxing you to join them in their sedentary, junk food based diet. If you cannot distance yourself from these people because they are someone close to you, try taking the lead.
Choose to take the family swimming on Friday night instead of watching a movie. If those in your house do not eat enough fruit, try cutting it up and placing it in front of the TV this evening. You might be surprised that even the naysayers join in.
Andrea Holwegner, "The Chocoholic Dietitian," is owner of Health Stand Nutrition Consulting Inc. Visit www.healthstandnutrition.com or phone403-262-3466 for more information on personalized nutrition counselling, professional speaking and to subscribe to a blog or free monthly ezine. Mention promotional code calherald07 and for January 2011 receive a group/family nutrition counselling package for the same price as an individual package.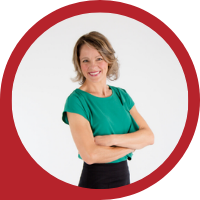 About Andrea Holwegner
CEO, Registered Dietitian, Counseling Practice Director & Professional Speaker
Andrea the «Chocoholic Nutritionist» is founder and CEO of Health Stand Nutrition Consulting Inc. since 2000. She is an online nutrition course creator, professional speaker and regular guest in the media. Andrea is the recipient of an award by the Dietitians of Canada: The Speaking of Food & Healthy Living Award for Excellence in Consumer Education....Read more