Are you really too busy? Some is better than none
A few weeks ago I wrote about rekindling my practice of meditation after taking many years off in my post "Why do we stop doing things that are good for us?".  
Despite wanting to develop a regular mindfulness meditation habit, it has NOT been easy.  As a working mom I told myself there wasn't enough time, it was not the "right time," or that I was too tired.  Other days there was no excuse and I just simply did not want to do it.  
Sound familiar?  All of us struggle at times to put healthy habits into place despite "wanting" to make a change.  Here are some common examples we see with clients in our practice:
Wanting to make healthy food choices but loading up the pantry with plenty of hard to manage foods that often get consumed mindlessly after a stressful day.
Wanting to overcome an eating disorder but skipping meals because of failing to pack food and using the excuse that there were no "safe" foods to buy.
Wanting to improve your diabetes control, cholesterol levels or blood pressure but failing to plan meals and instead grabbing a less than ideal convenience food instead.
Be real and honest with what the true challenge is.  It is not about having a shortage of time.  We all make time for things we choose to do.  The key for creating a healthy habit is starting small and repeating.  Some days I only do 5 minutes of meditation because that is all that I can manage.  Some is better than none.  What are you waiting for?  What small thing can you do every day to improve your health?
If you need a helping hand, contact us and learn more about our nutrition counselling programs by our experienced team of Registered Dietitians here.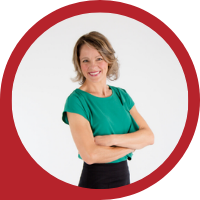 About Andrea Holwegner
CEO, Registered Dietitian, Counseling Practice Director & Professional Speaker
Andrea the «Chocoholic Nutritionist» is founder and CEO of Health Stand Nutrition Consulting Inc. since 2000. She is an online nutrition course creator, professional speaker and regular guest in the media. Andrea is the recipient of an award by the Dietitians of Canada: The Speaking of Food & Healthy Living Award for Excellence in Consumer Education....Read more