Are you taking 100% responsibility for your life & your results?
Earlier this month I attended one of my favourite events of the year. Hanging out with my fellow peeps at the Canadian Association of Professional Speakers (CAPS) conference is guaranteed to fill up my energy and inspiration tank.
 
I was excited to soak in tips from Jack Canfield (internationally renowned speaker, author and success trainer). His book, Chicken Soup for the Soul, was rejected by 144 publishers before it went big. Now with over 500 million books sold, Canfield reminds you to reject rejection. Rejection is a myth. When people say no, he suggests you simply say "next."
 
I liked his reminder that all of us need to take 100% responsibility for our life and our results. E + R = O (Events plus Response equals Outcome).
 
If we don't get outcomes in life we blame the event, when really, we need to change our response. A powerless response is to blame.
 
He reminds us to give up all complaining (after all people don't complain about things they can't change). Martin Luther King's famous "I have a dream" speech wasn't titled "I have a complaint." People don't complain about the fact we need oxygen to breathe because it is simply a fact that can't be changed. I do however, hear plenty of complaining about how hard it is to eat well. Hmmm…
What do you need to stop complaining about when it comes to your health and eating patterns? Replace I can't, I won't and I try with, "I can" and "I will."
Canfield reminded us that you can't hire other people to do push-ups for you (just like you can't hire someone to spoon feed you a healthy diet). Act as if. Take 100% responsibility for your life and your results.
Leave a comment below and tell us what, "You will…" or what, "You can…"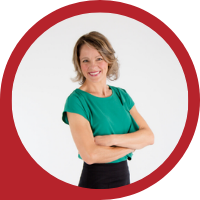 About Andrea Holwegner
CEO, Registered Dietitian, Counseling Practice Director & Professional Speaker
Andrea the «Chocolate Loving Nutritionist» is founder and CEO of Health Stand Nutrition Consulting Inc. since 2000. She is an online nutrition course creator, professional speaker and regular guest in the media. Andrea is the recipient of an award by the Dietitians of Canada: The Speaking of Food & Healthy Living Award for Excellence in Consumer Education....Read more