Attend My Upcoming Public Nutrition Seminar! March 15th
Come watch me present a FUN information packed nutrition session:
Bite-sized Changes for Supersized Results          
THURSDAY MARCH 15, 2012  7-8pm  
Advanced tickets : $10;  Tickets at the door: $15 For tickets call the Calgary JCC Centre at 403-253-8600 www.calgaryjcc.com Download a brochure here:
nutrition-seminar
As the Chocoholic Dietitian, Andrea has a mission to help you achieve health without guilt and complexity. Food and eating is much like life; when you are having fun, you will be successful. You don't need complicated plans and a huge amount of time or resources. You also don't need to sacrifice your favourites to improve your wellness. Andrea highlights what you can learn from the hundreds of past clients she has seen trying to make change. Learn what not to do from those she calls the "stuck-strugglers" and find out the best strategies used by her clients she considers the "shaker-movers." Bite-sized changes to what or how you are eating can have supersized results in your wellness. This humorous, content-rich session will inspire you to move forward with clear focus. Good health, top notch energy and managing a healthy weight is all within your reach! Presented by: Andrea Holwegner BSc, RD, the "Chocoholic Dietitian" is founder and president of Health Stand Nutrition Consulting Inc. since 2000, a member of the Canadian Association of Professional Speakers and a media expert for the Dietitians of Canada. Andrea is a regular guest on Global News-Morning, CITY-TV's Breakfast Television, and a regular writer for CBC News Online and the Calgary Herald. Combining lessons learned from counseling hundreds of clients plus her work with Olympic athletes, Andrea will show you the recipe for success is learning how to enjoy guilt-free eating and balance ALL foods! Visit www.healthstandnutrition.com.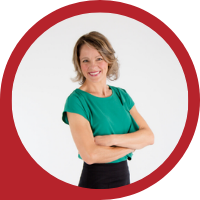 About Andrea Holwegner
CEO, Registered Dietitian, Counseling Practice Director & Professional Speaker
Andrea the «Chocoholic Nutritionist» is founder and CEO of Health Stand Nutrition Consulting Inc. since 2000. She is an online nutrition course creator, professional speaker and regular guest in the media. Andrea is the recipient of an award by the Dietitians of Canada: The Speaking of Food & Healthy Living Award for Excellence in Consumer Education....Read more