Avoiding the GAP
Last week I attended one of my entrepreneurial training sessions with The Strategic Coach. While the program is focused on business growth, our discussion on "avoiding the GAP" had complete relevance to how you look at health change.
The GAP is the permanent difference between our actual (achievements and results) to the ideals (an unattainable picture that doesn't exist outside of our mind; like trying to reach the horizon).
While ideals, such as the perfect body, diet, and workout plan can exist in your mind and serve to help you set goals, motivate yourself, and get through difficulties, if you measure by the ideal it leads to a sense of failure and unhappiness.
This is why many successful people, and those that have made good but not perfect progress, can feel terribly unhappy. Our brain is wired to measure things, and in order to achieve happiness, we need to measure progress from where we have come from to where we are now.
Measuring your eating habits and lifestyle change in this way is one of the single most important ways to stay positive and experience forward momentum with your health.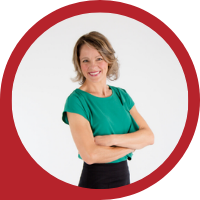 About Andrea Holwegner
CEO, Registered Dietitian, Counseling Practice Director & Professional Speaker
Andrea the «Chocolate Loving Nutritionist» is founder and CEO of Health Stand Nutrition Consulting Inc. since 2000. She is an online nutrition course creator, professional speaker and regular guest in the media. Andrea is the recipient of an award by the Dietitians of Canada: The Speaking of Food & Healthy Living Award for Excellence in Consumer Education....Read more