#ThingsNutritionistsLike – Batch Cooking with a Buddy
Batch Cooking with a Buddy! Our Favourite Things
One of my favorite ways to save time and add more enjoyment to cooking is to find a buddy! This is a great way to not only have some yummy food prepped for your week ahead or for your freezer stash, but also an excellent way to catch up with a friend or family member. Sharing food and cooking together is much more fun than the lonely job of doing this on your own.  
This last weekend I spent the afternoon cooking with my mom where we cooked up a triple batch of granola for each of our
families and black bean soup which we enjoyed as our lunch, but also as a ready-made meal for supper this week (or to freeze for lunches). Cooking together is also a great way to learn from one another and have meaningful conversations. My mom is an amazing baker and taught me how to make her famous flax seed bagels on the weekend, and while our granola was cooking and the bagels rising we headed out for a walk to get some exercise and some fresh air. If you are not someone that enjoys cooking, but does love to have healthy yummy food prepared for the week, I would like to encourage you to invite a friend or family member over to make a pot of soup, bake some muffins for the freezer or prepare a meal or two for the week ahead.  
What do you think? Could cooking with a buddy help you get inspired to cook more?
Let me know your thoughts in the comments on my blog here.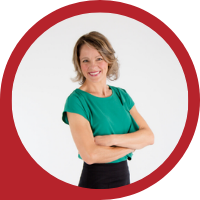 About Andrea Holwegner
CEO, Registered Dietitian, Counseling Practice Director & Professional Speaker
Andrea the «Chocoholic Nutritionist» is founder and CEO of Health Stand Nutrition Consulting Inc. since 2000. She is an online nutrition course creator, professional speaker and regular guest in the media. Andrea is the recipient of an award by the Dietitians of Canada: The Speaking of Food & Healthy Living Award for Excellence in Consumer Education....Read more