Battling the bulge as you age
By Andrea Holwegner, For The Calgary Herald  Jan 13, 2011
Katrina was a 42-year-old accountant and mother of two who contacted me for help to lose her "muffin-top" (the extra weight she was carrying around her mid-section). She was frustrated that the nutrition and exercise patterns she'd followed in her 20s and 30s were no longer providing her with the lean physique she wanted. Katrina ate healthy foods most of the time, rarely ate out and walked her dog daily for exercise. She wondered why she seemed to gain a few pounds per year despite maintaining a healthy lifestyle.
You typically need fewer calories as you grow older, since your metabolism or the rate that you burn calories typically declines with age. The trouble is most people don't increase their physical activity or eat less to compensate for this. The good news is that with a bit of awareness you can ward off the battle of the bulge as you age.
Here are some things you need to know:
Shrink your portions
Are you eating the same now as you were 10 years ago yet are frustrated that a few unwanted pounds creep on each year? As Albert Einstein suggested, insanity is doing the same thing over and over and expecting different results.
Katrina had never stopped to think about the fact she was packing the same lunch to work and eating the same portion sizes at supper for many years. She was able to decrease her calorie intake and lose weight without feeling substantially hungrier by skipping the granola bar or cookies she had packed in her lunch for years. She also made sure she had two different types of vegetables on her plate and smaller portions of meat and starchy foods at supper.
Rather than completely changing your nutrition habits and meals, think about shrinking down your portions slightly or tweaking your meals and snacks just a bit to lower calories. Small daily calorie deficits can lead to big weight changes over time.
Burn baby burn
If the thought of eating less was particularly unappealing to you, then your other option to curb weight gain as you age is to boost your physical activity to burn more calories. This might mean changing your physical activity pattern, increasing the time you spend exercising or alternatively increasing the intensity at which you exercise.
Katrina thought it would be difficult to squeeze more time into her busy schedule to add more exercise. She also really enjoyed her dog walks as an unwinding ritual from work. Instead of a leisurely stroll, she decided to pick up the pace and get her heart rate pumping and cover more ground. She also mixed up her daily routine by sometimes adding hills and running to bolster the intensity. This allowed her to burn more calories in the same amount of time.
Although weight training was not appealing to Katrina, you may consider adding this to your physical activity plan since it can increase muscle mass. Building muscle is the best way to curb an age-related decline in metabolism.
Beyond food and exercise
Although the diet industry would have you believe that you should be able to lose weight by nutrition and exercise alone, be aware there are other factors that influence your weight. Your weight is not explained by simply "calories in" versus "calories out."
Other factors such as genetics, family history, hormone changes, medical concerns, sleep habits and stress level also influence your body weight. Some of these factors you have no control over, while others you can do something about. Check with your doctor regularly if you have experienced unexplainable changes in your weight.
Did you know that constant, high levels of stress and limited sleep often make weight loss very difficult? In my nutrition consulting practice, I have been amazed how many people I have seen over the years that are chronically stressed and survive on very little sleep or have untreated sleep apnea. Without getting these things in check, managing a healthy weight is very difficult.
Katrina was really surprised that getting a good night's rest was just as important as getting enough exercise. How are you doing with these?
Reshape your ideals
Despite excellent health and trimming her muffin-top, Katrina was still disappointed she could not seem to reshape her body to what it looked like when she was in her 20s and 30s.
Realize that with age your body composition often changes to favour more fat mass and less muscle mass.
Remember that the body shape of a woman or a man in their 40s and beyond is not supposed to be that of a teenager or someone in their 20s.
Be realistic about what healthy looks like at your current age. Find healthy role models in your own age bracket instead of comparing yourself to someone who is younger or outside of the typical norm. Some of the skinniest people I know have horrible health. Some of the rounder men and curvier women I know have outstanding health. Be reasonable. Reshape your ideals to be your best at this age.
Andrea Holwegner, "the chocoholic dietitian," is the owner of Health Stand Nutrition Consulting Inc. Visit www.healthstandnutrition.com or phone 403-262-3466 for more information on personalized nutrition counselling, professional speaking and to subscribe to a blog or free monthly e-zine. Mention promotional code CalHerald07 and for January 2011 receive a group/family nutrition counselling package for the same price as an individual package.
Read more:http://www.calgaryherald.com/health/Battling+bulge/4101884/story.html#ixzz1CYneGWQ7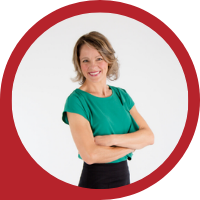 About Andrea Holwegner
CEO, Registered Dietitian, Counseling Practice Director & Professional Speaker
Andrea the «Chocolate Loving Nutritionist» is founder and CEO of Health Stand Nutrition Consulting Inc. since 2000. She is an online nutrition course creator, professional speaker and regular guest in the media. Andrea is the recipient of an award by the Dietitians of Canada: The Speaking of Food & Healthy Living Award for Excellence in Consumer Education....Read more