Thinking about your thinking: be mindful and let be
Juggling many commitments both at my nutrition practice and busy home life often feels like I am being pulled in different directions while doing the Russian splits.
For years I thought that getting more organized, crossing off to-do's and trying to let things go would free my mind. I've read self-help books on life balance and worked with a counsellor on the juggling act when I was prepping to become a so-called "good" working mom. While all of these helped to some degree, none of these actually worked to decrease the noise of a restless, never-good-enough brain more than mindfulness meditation.
Most days, I start the day off with a mindfulness meditation practice which has not only helped me find more clarity and focus for the day ahead but also more compassion for myself and others. I've learned the key to feeling more present, less frantic and free is not about letting go, but instead about letting be. Change is inevitable and good thoughts/experiences can't be clung to. Bad thoughts/experiences won't last forever and can't be numbed (they simply need to be tolerated and given space to let be). Meditation has taught me to observe thoughts as they are with no need to necessarily make them better or different. All I have to do is let be.
What do you need to "let be?"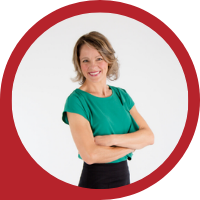 About Andrea Holwegner
CEO, Registered Dietitian, Counseling Practice Director & Professional Speaker
Andrea the «Chocolate Loving Nutritionist» is founder and CEO of Health Stand Nutrition Consulting Inc. since 2000. She is an online nutrition course creator, professional speaker and regular guest in the media. Andrea is the recipient of an award by the Dietitians of Canada: The Speaking of Food & Healthy Living Award for Excellence in Consumer Education....Read more