Bites from Andrea: Beauty is not a size
Weight Stigma Awareness Week #WSAW2016
  Over the years I have been disheartened to hear the countless stories from clients in our practice of how weight stigma and commenting on body size causes harm. Discrimination and commenting on body size is everywhere, no matter what size and shape you may be. For an important article about this check out a previous post by Registered Dietitian Richelle Tabelon on our team: Every Body Needs Boundaries
Learn more about weight stigma and spread the word about this important issue the week of Sept 26-30th which marks Weight Stigma Awareness Week.
I also share with you one of my favourite passages about the use of scales:
"Get Off The Scale!
By Steve Maraboli, Life, the Truth, and Being Free
"You are beautiful. Your beauty, just like your capacity for life, happiness, and success, is immeasurable. Day after day, countless people across the globe get on a scale in search of validation of beauty and social acceptance.
Get off the scale! I have yet to see a scale that can tell you how enchanting your eyes are. I have yet to see a scale that can show you how wonderful your hair looks when the sun shines its glorious rays on it. I have yet to see a scale that can thank you for your compassion, sense of humor, and contagious smile. Get off the scale because I have yet to see one that can admire you for your perseverance when challenged in life.
It's true, the scale can only give you a numerical reflection of your relationship with gravity. That's it. It cannot measure beauty, talent, purpose, life force, possibility, strength, or love. Don't give the scale more power than it has earned. Take note of the number, then get off the scale and live your life. You are beautiful!"
If you are struggling with weight and body image, you aren't alone! We can help. Contact us about speaking with a registered dietitian and nutritional counselling.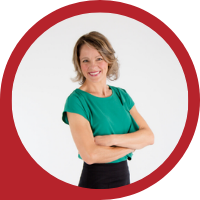 About Andrea Holwegner
CEO, Registered Dietitian, Counseling Practice Director & Professional Speaker
Andrea the «Chocolate Loving Nutritionist» is founder and CEO of Health Stand Nutrition Consulting Inc. since 2000. She is an online nutrition course creator, professional speaker and regular guest in the media. Andrea is the recipient of an award by the Dietitians of Canada: The Speaking of Food & Healthy Living Award for Excellence in Consumer Education....Read more