Bites From Andrea: Emotional Wellness Month: Try MindFULL Eating
#emotionalwellnessmonth
October is Emotional Wellness Month and I am reflecting on just how difficult it can be for all of us to take care of our emotional wellness with the significant demands we have in our personal and professional lives. As someone prone to getting stressed out and feeling overwhelmed easily, one of the biggest things that has helped me to become calmer, more present and more compassionate is studying mindfulness. 
Mindfulness seems insanely easy but is certainly one of the hardest things to do when we are constantly thinking about the past or worrying about the future. My meditation teacher often reminds me that like anything in life, it is about practice. You can train your brain to become more mindful not only by meditation but by looking for small opportunities throughout your day to truly live in the present moment. This month my challenge to you is to practice mindfulness while eating. 
When you eat, only eat. Stop multitasking while eating. Food is never as satisfying if you are driving, using your smartphone, watching television or surfing on the net. Create a calm, non-rushed and pleasant eating experience. Think about the farmer that grew your food, the sensory aspect of the sight, smell, taste and texture of the food. Think about the positive nourishment the food is providing to your body. These types of mindful eating experiences can be a small part of your day to help you reduce stress and improve your relationship with food. Give it a try! 
Post your thoughts on mindful eating in the comments below. 
Contact us at Health Stand Nutrition to book a nutrition counselling appointment with an experienced Registered Dietitian who specializes in emotional eating or eating disorders (such as anorexia, bulimia and binge eating disorder). We can also recommend our favorite psychologists that we collaborate with regularly that can help support you with behavior change.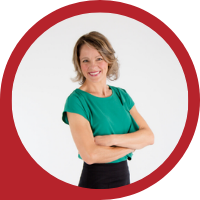 About Andrea Holwegner
CEO, Registered Dietitian, Counseling Practice Director & Professional Speaker
Andrea the «Chocolate Loving Nutritionist» is founder and CEO of Health Stand Nutrition Consulting Inc. since 2000. She is an online nutrition course creator, professional speaker and regular guest in the media. Andrea is the recipient of an award by the Dietitians of Canada: The Speaking of Food & Healthy Living Award for Excellence in Consumer Education....Read more