Boomers and Zoomers: Nutrition at 50+
Podcast   
How diet and nutrition change after age 50
Nutrition Challenges at age 50 Plus
This age group is struggling with either excess weight: the weight is coming on due to a lower metabolism and changes that are happening, or the opposite where people are struggling to keep their weight on due to medications, loneliness and other factors.
Do people really lose their appetite?
Boomers: Maintaining weight: eating less and exercising more
Zoomers: Adults in their 70s and 80s have appetite shifts, more weight struggles
How do you make sure those age groups are getting the right nutrition?
Make food enjoyable: your food plan should accommodate your likes and dislikes.
A nutritionist can help you look at your diet and customize a plan that makes sense for your base line can be very helpful.
Journal your food, even for a week. Then set one or two basic goals and work from there.

more vegetables
less junk food
more water
Is emotional eating an issue for this age group?
There is so much change and stress at this stage of life, especially for Boomers.
Changes occur in your metabolism, body shape and body image, and family life.
It's not just the what you're eating, but the why you're eating. Are you eating when you're not truly hungry?

Stress
Boredom
Anger
Worry

What are you really hungry for, and what other things can fill up that hunger and that emotion.
In your 50s and 60s is it too late to change your eating habits?
There's always time to change your eating habits and get healthier. Often in your 50s things start to pop up like cholesterol issues, blood pressure concerns and higher blood sugars. All of those things have a direct correlation to our diets.
We need to:
eat more healthy fats from nuts, seeds and avocados, fish fats
eat less trans fats, packaged and deep-fried foods
eat more vegetables and fruits
People hear this, but few people actually implement these healthy eating strategies.
If you need help putting your goals into action we can help.  Work with one of our friendly Registered Dietitians at our Calgary office or alternatively by phone or Skype. Explore our Nutrition Counselling Programs.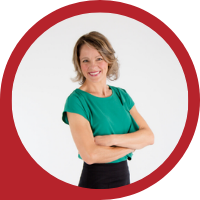 About Andrea Holwegner
CEO, Registered Dietitian, Counseling Practice Director & Professional Speaker
Andrea the «Chocoholic Nutritionist» is founder and CEO of Health Stand Nutrition Consulting Inc. since 2000. She is an online nutrition course creator, professional speaker and regular guest in the media. Andrea is the recipient of an award by the Dietitians of Canada: The Speaking of Food & Healthy Living Award for Excellence in Consumer Education....Read more