Why your calorie counting apps and devices may be wrong: Fitbit and MyFitnessPal issues
The downside of using calorie tracking apps
There are now more technology devices and phone apps to monitor your food, exercise and health habits than ever before. But are they useful and are the numbers accurate?
Devices and nutrition apps that offer live personalized feedback have been shown in some research to be helpful for goal setting, accountability and motivation. If a device has positively encouraged you to get more steps and increase your fitness level, this is fantastic. We've also seen clients that have found tracking their food intake helped their awareness of food choices for their goal with weight loss or diabetes management.
For others, tracking devices have not been shown to be helpful since there are many barriers to lifestyle change related to emotional, habitual, social and environmental issues. Compliance can be a challenge and many of the clients we see in our nutrition counselling practice track on so-called "good days" and avoid tracking on "bad days."
Still for others using devices and apps have destroyed a healthy relationship with food and intuitive hunger cues. Tracking every morsel of food and step of exercise can become a deadly obsession for those with eating disorders or an emotional torment tool for chronic dieters.
The following myths demonstrate why this technology and nutrition apps may not be the right fit for you.
MYTH 1: The calories burned and distance travelled in my device is reliable
While much has been done to try and make the information of your Fitbit and other similar tracking devices accurate, it is not surprising that there will be errors. Although your tracker may inaccurately think you are walking when you are cooking, working at your desk or moving your arms, overall there is research to show the Fitbit is quite accurate at measuring steps.
Unfortunately, the distance travelled in a Fitbit has been shown to be inaccurate (especially for those that are walking or running at a fast speed). Calories burned can also be either underestimated (such as in cycling) or overestimated (such as with carrying laundry).
MYTH 2: Weight loss is as simple as calories in versus calories out
One of the biggest diet myths is that you can weigh whatever you want if you only eat less and exercise. Your body is not a robot and can't be summarized by mathematical equations and one-sized-fits-all targets. There are many factors that influence our weight with some factors we can change and others we can't change such as our age, gender, family history, personal genetics and some medical conditions. 
Rather than rely on an app or outdated body mass index (BMI) chart to determine how much you should weigh, instead work with your dietitian to determine your best weight or personal best.
Your best weight is achieved when:
You get enough sleep
You manage stress and emotions in a healthy way
You are eating healthfully (mindful eating without rigid perfection)
You are exercising healthfully in a non-punishing/extreme way
You are living soulfully (enough fun and flexibility to live a fulfilling and social life)
MYTH 3: The nutrition goals in my device are accurate
We are all different. Work with an experienced dietitian who can help you personalize and edit the numbers in your technology devices.
Your unique goals will vary based on personal food preferences, medical concerns as well as personal best weight goals you can achieve.  
For example vegetarians will have higher carbohydrate and lower protein targets. If you have high blood pressure you may have lower sodium goals. If you have digestive issues you may need different targets for fibre. If you are diabetic you need to consider both daily goals and single meal targets for carbohydrate and protein that best promote healthy blood sugars.
Also note that most programs that provide feedback on targets for sugar have no way of separating out added sugar from sweets versus natural sugar found in fruits, veggies and the lactose in milk/yogurt. In this case sugar targets should therefore be disregarded. 
MYTH 4: I should get fewer calories if I want to lose weight or didn't exercise today
Many programs put default low-calorie goals of 1,200 or 1,500 calories for anyone trying to lose weight. This is simply not enough for many people. Just because you are trying to lose weight does not mean you need to be punished with restrictive, unreasonable goals that will be hard to sustain.
It is also puzzling that many devices allow extra calories to be eaten on days you exercise while less food is allowed on days you don't exercise. This fundamentally goes against normal intuitive eating patterns. You may find your appetite is lowest on active days and your body will cue you to eat more to recover on days off. Exercise should never be treated as a reward for being worthy and you should be allowed to eat more food if your body needs it.
MYTH 5: To be successful I must track on a device
None of the dietitians in our practice have ever personally tracked calorie intake on a device nor do we recommend this for all of our clients. We like to think of apps and devices as one tool in a full tool kit of options that can be used to help shift change.
We feel the following is more important for long-term success:
Understanding the science of food and prevention and treatment of medical issues
Ensuring you plan meals for balance for productivity and satiety
Developing a bank of meal planning ideas of foods you and your family love
Being able to eye-ball portion sizes appropriate for you
Working through barriers in habit formation and emotional eating
For more articles related to this topic check out these Dietitan articles on our website:
3 Ways to Manage Portion Sizes Without Counting Calories
Top Apps for Health, Wellness and Balanced Nutrition
Need more support?
As Registered Dietitians that specialize in meal planning, weight concerns, emotional eating, eating disorders, digestive health, heart health, diabetes, pediatric nutrition and sports nutrition we can see you in our local Calgary nutritionist office or as an Online Dietitian by phone or video conferencing for virtual nutrition counseling. Find out more about our Dietitian Nutrition Counseling Programs here.
Join the waiting list for our next Online Nutrition Course The Pursuit of Healthiness.
As university trained Registered Dietitians, you can count on us for credible advice and practical meal planning so you don't have to stress about food anymore. You can achieve a healthy and joyous relationship with food and your body. Let's talk about what this can look like for you. CONTACT US.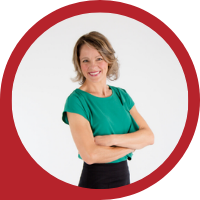 About Andrea Holwegner
CEO, Registered Dietitian, Counseling Practice Director & Professional Speaker
Andrea the «Chocolate Loving Nutritionist» is founder and CEO of Health Stand Nutrition Consulting Inc. since 2000. She is an online nutrition course creator, professional speaker and regular guest in the media. Andrea is the recipient of an award by the Dietitians of Canada: The Speaking of Food & Healthy Living Award for Excellence in Consumer Education....Read more