Carbs and Weight Management – Can They Go Together?
Before you unnecessarily remove nutritious and enjoyable foods from your diet, here are some important things to note based on scientific research.
Watch Calgary Dietitian Andrea Holwegner on Global TV
1. Can a low-carb or grain restricted diet help with weight loss?
There is no need to remove carbs, gluten or wheat to lose weight. Healthy weight loss involves reducing calories consumed and/or increasing calories expended by physical activity, not cutting out specific foods.
If you are overweight, reducing calories from foods containing carbohydrates, protein or fat will create the same level of weight loss over the long run. Simply switching the same amount of calories of a gluten containing food to gluten-free foods will not affect your weight.
2. I heard that often people lose water weight on a low-carb diet?
Don't be fooled by the extra initial weight loss of a low-carbohydrate diet; this indicates you have essentially dehydrated yourself, since carbohydrates store fluid on the body. Since wheat and gluten-containing foods are high in carbohydrates, eliminating these and not replacing them with other carbohydrate-rich foods may result in five or more pounds of fluid loss on your body.
3. Recently there has been interest in gluten-free diets. What is gluten and who needs to follow a gluten-free diet?
Gluten is a protein found in wheat, rye and barley. Individuals with celiac disease (which the Canadian Celiac Association estimates affects approximately 1 in 133 Canadians) must eliminate all gluten from their diet. There are also people that have a non-celiac gluten sensitivity that affects an estimated 2-6% of us and these individuals may find reducing gluten will help reduce digestion symptoms.
4. What are the risks of eliminating wheat and grains from your diet unnecessarily?
Unnecessarily removing wheat and other gluten-containing foods from your diet could do more harm than good. Wheat, rye, barley and oats supply key nutrients such as fibre and B-vitamins that are good for your health.
Health Canada as well as health authorities internationally support whole grains in the diet. Research shows consuming whole grains can be helpful in weight management and offer overall satiety in meals.
Do not be misled by popular claims that you can skip grains and just eat vegetables and fruit. Grains provide different types of fibre, B-vitamins, other nutrients as well as phytochemicals that are not found in fruits and vegetables. For optimal health, choose a wide variety of foods.
When you restrict enjoyable foods you love you will inevitably obsess about them more and likely overeat. There is nothing you must restrict or give up completely in order to manage a healthy weight. As an activist for finding enjoyment in eating, I would also argue that removing foods you love, such as pasta or bread for no clear medical reason just adds difficulty to the already big challenge of healthy eating.
5. Where can I find out more information and healthy recipes?
For more information about gluten-free diets, wheat and other grains along with great healthy recipes visit www.healthygrains.ca.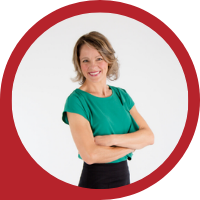 About Andrea Holwegner
CEO, Registered Dietitian, Counseling Practice Director & Professional Speaker
Andrea the «Chocoholic Nutritionist» is founder and CEO of Health Stand Nutrition Consulting Inc. since 2000. She is an online nutrition course creator, professional speaker and regular guest in the media. Andrea is the recipient of an award by the Dietitians of Canada: The Speaking of Food & Healthy Living Award for Excellence in Consumer Education....Read more