Cauliflower recipes: Seared with olives and breadcrumbs
Looking for easy cauliflower recipes? Try this!
Looking for healthy cauliflower recipes? Calling all olive lovers – this recipe for seared cauliflower with olives and breadcrumbs inspired by cookbook author Mark Bittman is for you! Enjoy as a vegetable side dish for dinner or serve as a healthy appetizer to nibble on before your next meal. You don't need to measure the ingredients exactly for this recipe as a little more or a little less of the ingredients will turn out just fine depending on what you have on hand and your taste preferences.
Makes 6 servings
What you need:
1 head of cauliflower (approximately 2 pounds), cored and cut into bite sized pieces
3 tbsp olive oil
1 tbsp minced fresh garlic
1/2 cup sliced pitted olives (such as green olives or kalamata olives)
1/2 cup of breadcrumbs
2 tbsp. fresh chopped parsley
Salt and pepper to taste
Fresh squeezed lemon wedges
How you make:
Wash and core cauliflower and chop into bite-sized pieces.
In a large frying pan heat olive oil and stir-fry cauliflower until slightly browned. Add the minced garlic and sliced olives.
Add a handful of breadcrumbs and continue stir-frying until toasted brown. Finish with chopped parsley and salt and pepper.
Serve with a wedge of lemon to squeeze on top.
Nutrients per serving:
150 calories
15 g carbohydrates
4 g protein
9.6 g fat
3.5 g fibre
We hope you've enjoyed this healthy cauliflower recipe! If you are looking for more cauliflower recipes you might want to also check out these ideas on our blog:
Buffalo Cauliflower Recipe
Cauliflower Recipes Roasted: Tomato and Cauliflower Pasta Bake
5 Ways to Enjoy Cauliflower
Looking for more simple meal planning tips and healthy recipes for a healthier lifestyle?
Sign up for our weekly newsletter for a healthy recipe of the week (and nutrition articles and videos with a balanced living philosophy to help encourage healthy habits but still save room for your favorites). Our nutrition newsletter is written by the Calgary Nutritionists on our team who each hold a professional Registered Dietitian license to ensure you are getting credible advice.
Click here to sign-up for our free weekly nutrition newsletter: Nutrition Newsletter by our Calgary Nutritionist / Online Dietitian team.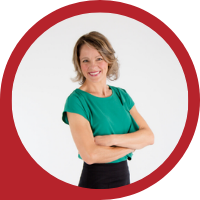 About Andrea Holwegner
CEO, Registered Dietitian, Counseling Practice Director & Professional Speaker
Andrea the «Chocoholic Nutritionist» is founder and CEO of Health Stand Nutrition Consulting Inc. since 2000. She is an online nutrition course creator, professional speaker and regular guest in the media. Andrea is the recipient of an award by the Dietitians of Canada: The Speaking of Food & Healthy Living Award for Excellence in Consumer Education....Read more