The Chocoholic Dietitian's Take on Healthy Living
What I have learned over the past 12 years of counselling clients, is that when it comes to healthy eating imperfect is perfect. Dr. Brian Wansink, a leading food researcher suggests we make over 200 food related decisions each day. How could we expect them all to be perfect?
Chances are there are a bunch of things you could do better to improve your health.  But what is the top one, two or three changes maximum that you can commit to working on?  An extreme lifestyle makeover is not only intimidating, it will set you up to feel overwhelmed and fail quickly.  Have you ever heard yourself say things like "when life slows down, or when the kids don't need me as much, or when this work project is over, then I will have time to take care of my health?"  The truth is life never slows down long enough to give us all the time we need to truly take care of all the things you want to do to get healthier.  There is no better time to begin changes to your lifestyle than now.  You don't need to drink more water, eat less fat, consume more fruits and veggies, exercise more and get more fibre all at once.  While all of these are good things to work towards, ask yourself where is the easiest place to start?  Would it be easier to change your breakfast cereal to boost your fiber intake, than hit the gym?  Then start with this.   Over time you can address the others and the good news is that you will feel fired up with motivation to continue making changes if you have experienced initial success.
In addition to choosing a few changes to make at a time, think about working around what I call non-negotiables.  I have always been puzzled why people try to change the few things that matter to them most.  What are your non-negotiables?  In other words what would cause you stress if you knew you couldn't eat it ever again?  Or what have you tried to give up but couldn't?  Don't worry about these, start with changes somewhere else and work around your non-negotiables.  If potato chips are your absolute favourite thing in the world you don't need to give these up. Allowing yourself flexibility and the opportunity to enjoy your favourite treats is the only way I believe you can be successful and committed to achieving good health.  The healthiest and happiest people I know have figured out the concept of what I call middle magic. Middle magic is about finding a balance between "all or none." There is a basic psychology principle that we all want what we can't have.Just like if you starve a child of affection they will seek it out.  Similarly if you starve the chocoholic dietitian of chocolate I will hunt it down, obsess about it more and eventually overeat. It is far better to have some of your favourite treats built into your plan than have all or none. Middle magic means finding a balance between healthful and soulful living. One without the other will always run you into trouble.
It may come as a surprise to you that as you begin to think about setting goals keep in mind you don't ever need to commit to any goal 100%.  If you have skipped breakfast for 30 years of your life, it is unlikely that as of Monday morning you will achieve a healthy breakfast every day until the day you die.  Instead of setting yourself up for failure why not set a goal to choose a healthy breakfast 3 times a week to start.  If you have made a commitment to choose healthier fast food, remember that you don't have to choose the best option every single time to be successful.  I always say that bite-sized changes have supersized results.  The little things you can do add up to be big over time.
Join me with a new mission to challenge yourself to do better but cut yourself some slack.  This is the recipe for happiness and health.  Live fully…that is both healthful and soulful.
Thanks for reading!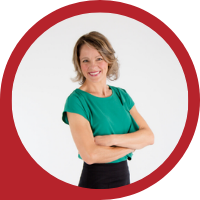 About Andrea Holwegner
CEO, Registered Dietitian, Counseling Practice Director & Professional Speaker
Andrea the «Chocolate Loving Nutritionist» is founder and CEO of Health Stand Nutrition Consulting Inc. since 2000. She is an online nutrition course creator, professional speaker and regular guest in the media. Andrea is the recipient of an award by the Dietitians of Canada: The Speaking of Food & Healthy Living Award for Excellence in Consumer Education....Read more