Chocolate Chia Pudding Recipe
Try this 5 ingredient overnight chocolate chia seed pudding
Try this simple, 5 ingredient recipe for overnight chocolate chia pudding. Top this recipe with berries, banana, crushed nuts or coconut. You can also stir in nut butter or powdered peanut butter for an extra delicious variation. This is indeed a recipe for fellow chocoholics!
Makes 2 servings
Ingredients
1 cup (250 ml) 1% milk (or almond milk or any other type of milk)
1/4 cup (35 g) chia seeds
1 tbsp white granulated sugar
2.5 tbsp cocoa powder
1 tsp vanilla
Optional toppings: Berries, sliced banana, coconut or chopped nuts.
How to Make
Whisk the milk, chia seeds, sugar, cocoa powder and vanilla together in a bowl.
Cover the bowl and place in the fridge for 3 hours or more (or overnight). Stir to ensure that the chia seeds have absorbed the liquid and created a pudding.
Place in 2 bowls and top with your choice of berries, sliced banana, coconut or chopped nuts.
Variations: before adding the toppings stir in peanut butter, almond butter or powdered peanut butter for an extra delicious nutty variation.
We hope you enjoy this overnight chocolate chia pudding recipe!
Nutrients Per Serving
158 Calories
18 g Carbohydrate
8 g Protein
7.5 g Fat
8.8 g Fibre
Looking for more simple meal planning tips and healthy recipes for a healthier lifestyle?
Sign up for our weekly newsletter for a healthy recipe of the week (and nutrition articles and videos with a balanced living philosophy to help encourage healthy habits but still save room for your favorites). Our nutrition newsletter is written by the Calgary Nutritionists on our team who each hold a professional Registered Dietitian license to ensure you are getting credible advice.
Click here to sign-up for our free weekly nutrition newsletter: Nutrition Newsletter by our Calgary Nutritionist / Online Dietitian team.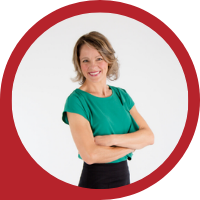 About Andrea Holwegner
CEO, Registered Dietitian, Counseling Practice Director & Professional Speaker
Andrea the «Chocoholic Nutritionist» is founder and CEO of Health Stand Nutrition Consulting Inc. since 2000. She is an online nutrition course creator, professional speaker and regular guest in the media. Andrea is the recipient of an award by the Dietitians of Canada: The Speaking of Food & Healthy Living Award for Excellence in Consumer Education....Read more