Conscious Eating
Conscious Eating: How to double your weight loss!
Do you know what you are actually eating? Often we are unaware of how much or even why we are eating. Is it really due to hunger? Often we form social events around eating, like when we are out with work, friends or family. Food can also be a coping mechanism to deal with anger, sadness and stress. Sometimes we are not aware of the larger portions served at restaurants and at home. So even if you are trying to acknowledge your food intake, the supermarkets, restaurants, and even our expanding personal plates and bowls have made it increasing difficult to know what a proper portion size of food should be.
No wonder many North Americans are struggling with their weight. This is where conscious eating comes into play. We need to get back to acknowledging our own hunger-pains. As a child we had hunger and fullness cues that we instinctively used to let us know how much food was appropriate for energy, growth and development. What happened to those biological signs? How do we bring back those instinctive cues of our childhood to tell us to stop eating when full? Initially, to understand where you are indulging in food too much, you need to know what you are currently eating.
Try writing down what you eat each day. Studies have shown that people who are overweight and write down daily food journals have lost significantly more weight in less time. The underlying science to this weight loss trick is consciousness. It means that we know WHAT we are eating and WHY we are eating it. As nutrition professionals, we notice the difference in clients eating habits when they bring in a food journal just for 3 days.
Often people comment on how the food journal is not very typical and they would have normally eaten much worse. It is a real eye-opener. When writing down every food and drink you consume, you become responsible for your diet and your health. You may find you want to eat all 10 chocolate chip cookies, but do not want to write them down; therefore you may only have 2 instead. The food journal is for your eyes only (if you choose so); therefore it is best when you are honest with yourself. It will keep you compelled to stay on track with you healthy eating goals.
Food Journal: You can use anything from a scrap piece of paper to your palm or blackberry to keep track of your daily food intake. For a copy of our food journal, click here. Some people like to keep an online database food journal that will keep a log of your progress. Here are some recommended sites:www.eatracker.ca, www.fitday.com and www.nutritiondata.com.
Evidence Based: A research study by Kaiser Permanente Centre in August 2008 showed that overweight participants who were put on a healthy eating diet and exercise program were able to lose DOUBLE the weight when they religiously wrote down what they ate each day. Those who did not write down what they ate still lost weight due to a healthy eating plan, but were not as successful with meeting their weight loss goals. For more information on this study and other studies at the Kaiser Permanente Centre see: https://www.kaiserpermanente.org/ and the American Journal of Preventive Medicine August 2008 issue.
Bottom Line: It seems like the simple act of writing down what you eat encourages you to consume fewer calories. What is also happening over time is we are changing our behaviors and becoming increasingly aware of our actions and eating habits. Remember to ask yourself, "WHY am I eating?" and "WHAT is this food doing for my body?" If you are struggling with your eating ask yourself how you can comfort yourself without food. Some examples of healthy ways to comfort yourself without food could include: taking a short walk, lying down and just listening to your own breath, take five deep breathes, writing down how you are feeling, talking to a friend or listening to music. You can make your own list of things that work for you.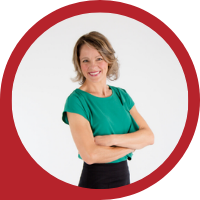 About Andrea Holwegner
CEO, Registered Dietitian, Counseling Practice Director & Professional Speaker
Andrea the «Chocoholic Nutritionist» is founder and CEO of Health Stand Nutrition Consulting Inc. since 2000. She is an online nutrition course creator, professional speaker and regular guest in the media. Andrea is the recipient of an award by the Dietitians of Canada: The Speaking of Food & Healthy Living Award for Excellence in Consumer Education....Read more