Date Squares
Enjoy this more nutritious date square with a cup of hot tea!
Recipe from February 2004 Tuffs University Health & Nutrition Letter
Makes 16 servings
What you need:
Crust & Topping:
1 cup whole wheat flour
1 cup rolled oats
¼ cup packed light brown sugar
¼ tsp ground cinnamon
¼ tsp baking soda
¼ tsp salt
¼ cup frozen orange juice concentrate
¼ cup canola oil
2 tsp butter
Filling:
1 (8oz pkg) chopped pitted dates (1 2/3cups)
1/3 cup orange juice
1/3 cup water
How you prepare:
Preheat oven to 350F. Coat an 8-by-8 inch baking pan with cooking spray.
To make filling: Combine dates, orange juice, and water in a small saucepan; bring to a simmer over medium-high heat. Reduce heat to medium-low and cook, uncovered, stirring occasionally, until dates are tender and filling has thickened, 4 to 6 minutes. Remove from heat.
To make crust and topping: Combine flour, rolled oats, brown sugar, cinnamon, baking soda, and salt in a medium bowl; blend with a fork or your fingertips. Add orange juice concentrate and blend with a pastry blender or your fingertips. Drizzle in oil, tossing with a fork, until moistened and crumbly.
To assemble and bake squares: Set 2/3 cup of the flour/oat mixture aside in a small bowl for topping; pat the remainder evenly in the bottom of the prepared pan. Spread date filling evenly over bottom crust. Add butter to reserved topping and blend with a pastry blender or your fingertips. Sprinkle topping over filling. Bake until golden and firm to the touch, 20 to 30 minutes. Let cool in pan on a rack. Cut into 16 squares.
Per serving:
Calories 140
Carbohydrates 25 g
Fat 5 g
Dietary Fiber 3 g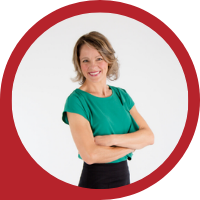 About Andrea Holwegner
CEO, Registered Dietitian, Counseling Practice Director & Professional Speaker
Andrea the «Chocoholic Nutritionist» is founder and CEO of Health Stand Nutrition Consulting Inc. since 2000. She is an online nutrition course creator, professional speaker and regular guest in the media. Andrea is the recipient of an award by the Dietitians of Canada: The Speaking of Food & Healthy Living Award for Excellence in Consumer Education....Read more