Dietitian Answers to Your Top Weight Loss Questions
Nutrition facts on how to move to your personal best weight
As a Calgary Dietitian team (and Online Nutritionist practice) one of the top inquiries we receive for support is regarding nutrition for weight loss. 
Conversations and emails often start out with something like:
"I've been overweight for years, can you help me to lose weight?"
"I've tried everything and can't seem to drop any pounds, what else can I do?"
"Menopause has not been easy and I seem to keep gaining weight, how can I lose weight?"
"I feel like I eat quite well but it seems with age the scale keeps going up, what can I do?"
"I'm an emotional eater and know what to do but can't seem to follow it, can you help?"
My response is always the same.  You may or may not lose weight coming to see us in our nutrition counseling practice. While we can't guarantee a specific number on the scale or a certain number of pounds of weight loss (science has proven that no one can!), we will help you maximize your results through a non-dieting approach.
Watch my interview on Global TV:
Here are some answers to 5 common questions about nutrition for weight loss:
1. If I eat less and exercise more why can't I lose weight?
The diet and fitness industry widely promotes the myth that if you eat less and exercise you can lose weight. Of course your nutrition and exercise habits are important considerations that can help, but at some point you can't eat any less or exercise any more. Food and exercise are only part of the weight loss equation.
Here is a list of ten important factors that influence body weight. Take some time to explore which of the above factors may be influencing your weight. Set goals around factors you can change and while it can take time, find peace and acceptance with those that you can't change.
10 Factors that influence your weight
Personal genetics– just like we each have a different shoe size, we each have a different body size.
Family history– may play a role in overall body shape.
Age & gender– metabolism declines with age in adulthood; puberty increase body fat for girls; menopause shifts more weight in midsection.
Medical concerns & medications– thyroid issues or other medical conditions and medications can increase or decrease weight.
Nutrition– calories consumed over time.
Fluids– Body is ~50-60% water & changes dramatically with hydrating foods/fluids; carbs store more water (1g carb stores 3g water); caffeine is a diuretic.
Exercise– calories burned; more muscle increases weight & metabolism.
Body composition– bone structure and muscle mass increase weight; women require more body fat.
Stress– chronic stress, inadequate sleep and starvation all cause your body to hang onto weight.
Eating disorder behavior– bingeing, restricting, purging, laxative, diuretic use all influence body weight shifts in random ways.
2. How much 'should' I weigh?
Perhaps you have been told to use the BMI (body mass index) to assess your weight. This chart correlates height and weight into a health range. While the BMI does give a broad starting place, you are an individual. A chart cannot determine your health or how much you should weigh. Charts like these oversimplify the range of factors contributing to your weight. They cannot reflect what we have learned about the science of weight management.
More and more health educators and researchers, including the Canadian Obesity Network, are moving towards individualizing target weight goals.
Why setting a goal for determining your personal best weight is key:
Identifying a personal 'best weight' gives you a realistic target. You are likely never going to win an Olympic gold medal or a Nobel Prize. However, that does not mean you should stop shooting for your personal best.
"Your best weight is the weight you can achieve while living fully. Living fully is about living healthfully AND soulfully."
Your best weight is a personal best. It is not based on a graph, chart, app or number provided by a so-called 'expert.' You are your own best expert.
As you look at nutrition, activity level and other lifestyle considerations, keep a few points in mind. You are most likely to be at your best weight when you:
get enough sleep
manage stress and emotions in healthy ways
eat healthfully and mindfully, without striving for perfection
exercise in a non-punishing or extreme way
live soulfully, with enough fun and flexibility to feel that life is social and fulfilling
3. How do I know if I am getting too many calories (or too little calories)?
Failing to consume enough calories is a form of stress for the body, which can adjust the hormones in your body to favor retaining weight. If you have read a diet magazine that suggests an adult needs only 1200 calories per day this is likely far too low to be sustainable, enjoyable and helpful to manage a healthy metabolism (after all a 2 year old needs 1000 calories a day and they are much smaller than an adult!). Find out more here: How many calories do I need per day?
Consuming too few calories compared to what your body requires is a form of stress for the body and will inevitably not help you manage your personal best weight and enjoy flexible eating habits over time. Your metabolism is like a furnace, if food is in short supply it slows the furnace or metabolism down.
On the other hand eating too many calories for what your body requires is one of the leading causes of obesity in North America. I often find many of our clients struggling to lose excess weight underestimate how much they are eating and overestimate how many calories are burned during physical activity. If you are carrying extra weight, hitting the gym and burning off 300 calories during your workout would not warrant an expanded extra-large supper and justify two helpings of dessert.
Work with an experienced Dietitian that can help you determine how many calories you need each day and can teach you the science of nutrition and practical ideas to execute a sustainable eating plan.  Find out more about our Calgary weight loss Dietitian services or work with us online through video conferencing for our private services for online nutrition counseling or our next online nutrition course.
4. Why do women after age 40 struggle more with weight loss and at menopause?
Women after age 40 lose muscle mass about twice as fast as men. After age 40 your metabolism slows about five per cent per decade. Since muscle burns more calories than fat cells on your body, losing muscle causes body fat gain and can hinder the ability to shed extra pounds.
Hormonal changes during perimenopause (which can begin in your '40s but in some cases even in the mid '30s) can cause more fat storage especially around the midsection. As your body stores more fat around the midsection this can also change insulin sensitivity and changes in blood sugar management. This can further increase weight, heart disease and diabetes risk.
While there may be a shift in body composition at menopause due to a more central or upper body fat distribution, the majority of changes in weight have a lot to do with the natural decline of muscle mass experienced with age. As muscle mass declines, so does our metabolism and how much food our body requires. At menopause sleep disturbances, lowered energy levels, and emotional roller-coaster mood changes can trigger overeating, more food cravings and emotional eating. All of these factors couple to make weight management throughout menopause challenging (but certainly not impossible).
Struggles with menopausal weight gain is one of the most common nutrition challenges we see in our nutrition counselling practice as well as in the participants in my online nutrition course, contact us for more information to see if we are a fit for you.
5. What can I do to lose weight and prevent weight gain?
Stop fad dieting
Anyone can lose weight, but can you sustain it? Avoid unnecessary restrictions, labelling food as good or bad and following a diet based on celebrity endorsement or food fads. It is far more effective to bite off small changes you can do for life than attempt "binge change" (an extreme diet makeover) that you follow for a few weeks. Also remember, we all want what we can't have. The more you try to deprive yourself of enjoyable foods, the more you will likely obsess about them and overeat. Yo-yo dieting damages not only the relationship you have with food and your body but is counter-intuitive since it typically leads to further weight gain.
Nutrition trumps exercise (but a combination is slightly better)
Research consistently shows that although you can lose small amounts of weight by initiating an exercise program, much bigger weight-loss results come from nutrition changes. Exercise is, of course, good for overall health, improving muscle mass to increase metabolism and maintaining weight loss over time but note that you can't burn off a bad diet in the gym.
If you don't know where to start, examine your nutrition and keep a food journal. Be honest, non-judgmental and set specific achievable goals.
When we are counselling our clients on weight loss we are looking to see what, when, how much and why you are eating. All of these factors can either increase or decrease your overall calorie balance. Meals need a good mix of carbohydrates, protein and healthy fats to keep your belly full and your brain satisfied. Meals and snacks also need to be spread out throughout the day so that you can manage appetite control and night eating issues. You need to understand what a good mix of healthy foods ideal for weight loss looks like and how to prepare them in a yummy way that encourages eating these for life. You also need strategies on how to include and manage your favourite soulful foods such as sweets and savory foods chosen for fun and enjoyment. Without this, real life (such as dinner at a neighbour's house, family birthday parties and vacations) are hard to manage. Of primary importance is also learning strategies on how to tackle emotional eating and environmental triggers that may be causing you to overeat.
Seek support
Who you hang out with says a lot about your health. If you are trying to get healthier and prevent weight gain seek out friendships and support from like-minded individuals. Meet your friends for a walking coffee date rather than sitting at a coffee shop. Cook healthy meals together. Have an accountability partner to check in with regarding your weekly goals. Work one-on-one with a Registered Dietitian (the only university trained, regulated health professional in the nutrition field that will ensure you are getting scientifically sound advice). Seek out a Psychologist that specializes in health change and emotional eating. See your health as an investment, not as a cost. Simply seeing a Dietitian for weight loss or Psychologist for behavior change once or twice may get you started but if you are like most people, change is impossibly hard and usually requires longer-term support.
WATCH the Global TV Facebook Live for a longer discussion on weight loss:
Where can I find more information about weight loss and achieving my best personal weight?
Our weight loss dietitian Calgary and online nutritionist services can't guarantee weight loss (no one can!) but we can guarantee we will do everything we can to help you move towards your personal best weight and a sustainable lifestyle. You won't find any weird fad diets, unnecessary food restrictions and anyone trying to sell you shakes, supplements or so-called miracle cures here.
As university trained Registered Dietitians, you can count on us for credible advice and practical meal planning so you don't have to stress about food anymore. You can achieve a healthy and joyous relationship with food and your body. Let's talk about what this can look like for you.
If you enjoyed this blog, check out our other articles on related topics: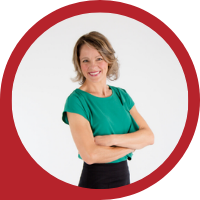 About Andrea Holwegner
CEO, Registered Dietitian, Counseling Practice Director & Professional Speaker
Andrea the «Chocolate Loving Nutritionist» is founder and CEO of Health Stand Nutrition Consulting Inc. since 2000. She is an online nutrition course creator, professional speaker and regular guest in the media. Andrea is the recipient of an award by the Dietitians of Canada: The Speaking of Food & Healthy Living Award for Excellence in Consumer Education....Read more