Dietitian Review of the New Canada's Food Guide
Answering your most asked questions about #CanadasFoodGuide
After years of consultation and review of nutrition research, the new Canada's Food Guide is here. Read on to find out my Dietitian review here:
What is new about Canada's Food Guide?
The old "all in one" single worksheet has been replaced by an online suite of resources at Canada.ca/FoodGuide.
This format better meets the needs for you personally or for your work (there are different users including the general public, policy makers, and health professionals).
You will find research documents, simple snapshots, videos, recipes and practical action steps.
What are some of the highlights in the new Canada Food Guide?
Movement away from food groups, number of servings and portion confusion to a simple visual of a balanced plate:

1/2 plate vegetables and fruit (fresh,frozen, canned)

1/4 plate protein foods (more emphasis on plant-based proteins such as legumes, nuts and seeds; also includes milk and yogurt as well as meat, poultry and seafood).

1/4 plate whole grains (such as brown rice, whole grain pasta, whole grain bread, quinoa)

Emphasis on drinking more water, less alcohol and sugary beverages.
Actionable advice on HOW to eat (not just WHAT to eat) to encourage families to enjoy food, eat together, cook more often and being mindful of eating habits.
Updated recommendations on reducing saturated fat, sodium, and sugars such as confectioneries and sugary drinks such as soft drinks and sweetened milk.
Mobile-responsive web content to support Canadians to eat healthy whenever, and wherever they go.
Considerations for incorporating traditional foods for Indigenous Peoples, cultural diversity and environmental sustainability.
Additional guidance will be needed by individuals with specific dietary recommendations by the help of a Registered Dietitian.  Dietitians are the only university trained and regulated health professional in the nutrition field.
Is the Canada Food Guide recommending a move to only plant based foods or a vegetarian lifestyle?
No – the advice is to choose protein that comes from plants more often. There are many ways to achieve good health and this includes incorporating animal foods (such as dairy, meat, poultry, and fish) OR following a flexitarian, vegetarian or vegan diet.  The best healthy eating style is the one you will actually follow and can sustain for life.  The main goal of whichever style of a healthy diet you choose to follow is to ensure you eat plenty of plant-based foods in general. You can choose to achieve a balanced plate by consuming a quarter of your plate as protein from a range of foods including legumes, nuts, seeds, poultry, seafood, meat, eggs, yogurt, fortified soy beverage etc.
How were the guidelines put together?
The best available evidence was considered, including:
only high-quality scientific reports on food and health from respected authorities including systematic reviews on over 100 food-related topics
over 400 convincing conclusions
The Evidence Review for Dietary Guidance 2015 and the Food, Nutrients and Health: Interim Evidence Update 2018, form the foundation of the new Food Guide.
Industry-commissioned reports were excluded to reduce the potential for, or the perception of, conflict of interest.
How can we be sure the information is trustworthy and the food industry did not bias the Food Guide?
There was openness and transparency in how and who was involved in the guide:
Submissions received during public consultations were summarized in What We Heard reports available at Canada.ca.
When Health Canada senior officials met with organizations to discuss the development of the Food Guide, details including the name of the organization and purpose of meeting, were posted on Canada.ca.
Health Canada's Office of Nutrition Policy and Promotion officials responsible for drafting the Food Guide did not meet with industry representatives to discuss the Food Guide.
Industry-commissioned reports were excluded to reduce the potential for, or the perception of, conflict of interest.
What is the bottom line and the potential challenges of Canada's Food Guide?
The new Canada Food Guide provides simple visual plate rather than food groups and serving sizes.  There are also more expanded online tools to get the general population thinking about healthy eating broadly.
As someone that has been teaching the concept of a balanced meal containing 3 key components for many years, this was a refreshing change from the days of the old rainbow guide.
The simple visual guide to aim for your plate to contain 1/2 vegetables and fruit, 1/4 plate protein and 1/4 plate grains is a move in the right direction.
The new Canada Food Guide focuses on not just what to eat but also how to eat with emphasis on cooking, eating together and mindfulness.
I see a loss of culinary skill being passed onto kids because of increased processed food consumption for busy families so an emphasis on cooking is absolutely critical for the health of Canadians.
I also see a trend of undervaluing the importance of family meals because of many competing work and extracurricular activities happening over the dinner hour.  When we eat together so much more happens around the dinner table than just eating – it is a time for connection.
An emphasis of mindfulness was also something I was really excited to see given the ability to understand emotions, hunger and fullness cues is a lost skill for so many people, especially those struggling with weight concerns.
If you are like many of the clients we see in our nutrition counseling practice, the 2 main challenges in using the food guide will be:
Challenge 1: How to personalize the information for your own life: 
You can think of the Food Guide as a general population tool and a good place to start.  To further customize the knowledge for your own unique needs you can look to the skills of a Registered Dietitian to help you personalized your nutrition plan.  Personalized advice from a Dietitian can help you navigate unique goals, health issues, sports performance, relevant information for your age or family situation, cooking skill, cultural diversity and food preferences.
Remember that just like physicians have unique areas of specialty, dietitians have many different areas of specialty. Some dietitians specialize in sports nutrition, pediatrics,eating disorders, weight concerns or digestive health to name a few.  Find the right dietitian for your needs.
Challenge 2: How to inspire action and sustainability:
As Calgary Dietitians in practice since year 2000, the biggest barrier many of our clients face whentrying to eat healthier is not knowledge. The bigger challenge is that knowledge doesn't necessarily lead to action.
The Registered Dietitians on our team work with our clients in our Calgary nutrition counseling office or virtually by phone or video education to customize advice for each person and build in behavior change and accountability strategies to move people through the change process. In order to help you achieve health, address a weight concern and improve meal planning skills a coach can help.  A trained and experienced Registered Dietitian can also help you address a medical issue such as IBS, high cholesterol, diabetes and eating disorder and more.
There is not one way to eat – the Food Guide can get you started, working with a Registered Dietitian can further customized that advice for your own unique needs.
Where can I find out more information about Canada's Food Guide and healthy eating?
Visit the Canada Food Guide website here for all the details: Canada.ca/FoodGuide. #canadasfoodguide
Sign up for our free weekly nutrition newsletter for our latest articles, videos and recipes on healthy eating. Our Free Nutrition Newsletter
Book an appointment with one of the Registered Dietitians on our team to help you personalize the advice for your own needs.  We specialize in weight concerns, meal planning, eating disorders, sports nutrition, digestive health, pediatric nutrition and more!  CONTACT US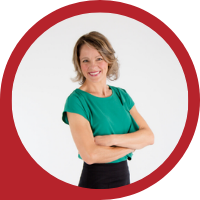 About Andrea Holwegner
CEO, Registered Dietitian, Counseling Practice Director & Professional Speaker
Andrea the «Chocolate Loving Nutritionist» is founder and CEO of Health Stand Nutrition Consulting Inc. since 2000. She is an online nutrition course creator, professional speaker and regular guest in the media. Andrea is the recipient of an award by the Dietitians of Canada: The Speaking of Food & Healthy Living Award for Excellence in Consumer Education....Read more