What is the Difference Between a Dietitian and Nutritionist?
All Dietitians are Nutritionists but not all Nutritionists are Dietitians
March is nutrition month and on March 16th, we celebrate Registered Dietitian (RD) Day in Alberta. It is a day where we can shine a light on the profession and celebrate all the amazing work RD's do to help our clients make informed and reliable life-changing decisions around food and nutrition. 
Often people use Dietitians and Nutritionists interchangeably, but did you know that there is a distinct difference between the two? 
All Dietitians are Nutritionists, but not all Nutritionists are Dietitians. So let's get down to it: What is the difference between dietitians and nutritionists?
What does RD mean?
Registered Dietitians (RDs) are the only university trained, regulated and licensed health professionals in the field of nutrition in Canada.  Dietitians are held to strict ethical standards of practice.  In some provinces including Alberta, Quebec and Nova Scotia, the word Nutritionist is also a protected title. To make sure you are accessing advice from the most qualified nutrition professional look for the initials RD or PDt (DtP in French) after a nutritionist's name. 
Seeing a Registered Dietitian is one way you can be ensure the nutrition advice you are receiving is credible. You wouldn't ask a celebrity interested in home construction how to wire your basement, you'd ask an electrician. You wouldn't ask your child's soccer coach who has an interest in health to provide you with medical treatment.  Apply this same thinking when it comes to nutritional services. 
Just like electricians, engineers and medical doctors, Dietitians are accountable to provincial regulatory bodies for the highest standards of education and ethical practice. Provincial regulatory bodies protect the public and serve as a point of contact for consumer complaints and malpractice. 
Titles such as Registered Holistic Nutritionist, Certified Nutritional Practitioner, RONP, RNCP, ROHP, RHN, CNP are not the same as a Registered Dietitian and do not indicate the person is a provincially regulated health professional. These are often used by those who have completed much less intensive privately owned training programs that vary in length and rigor. 
Are Registered Dietitians covered by Insurance?
One of the things that I'd also encourage you to do is to take a look at your insurance and see if you're covered for registered dietitian services. It's quite common on your health spending accounts or under health insurance plans with your employer to have some coverage to be able to access this care.
If not, ask if they would consider adding it to your plan and share the following fact sheet with your employer. Are you optimizing support for nutrition in your benefits plan? Healthy employees benefit everyone!
As a profession, Dietitians have a lot to be proud of. Find out more about nutrition month, Dietitians Day and the diverse areas of specialty and a range of healthy eating tips provided by our Dietitian team on our website!
Learn more about our dietitians below!
Looking for the right Registered Dietitian for you? We've got your back!
Our diverse team of registered dietitians specialize in a range of specialities to support you such as: emotional eating, eating disorders, sports nutrition, family meal planning, health concerns like diabetes, digestive issues, and more!
We offer both in person (in Calgary) services as well as online nutrition counseling. Our team empower people just like you to live healthFULLY + soulFULLY.
Discover which RD is right for you, today!
If you enjoyed this blog, check out our other articles on related topics: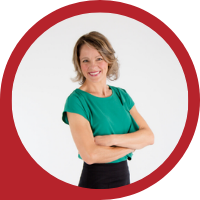 About Andrea Holwegner
CEO, Registered Dietitian, Counseling Practice Director & Professional Speaker
Andrea the «Chocoholic Nutritionist» is founder and CEO of Health Stand Nutrition Consulting Inc. since 2000. She is an online nutrition course creator, professional speaker and regular guest in the media. Andrea is the recipient of an award by the Dietitians of Canada: The Speaking of Food & Healthy Living Award for Excellence in Consumer Education....Read more