Top 3 Nutrition Debates for Digestive Health
Food sensitivity testing, gluten-free diet & low FODMAP diet
Thousands of people struggle with digestive health issues every day including diarrhea, constipation, bloating, gas, abdominal cramping and irritable bowel syndrome (IBS). Since these symptoms can seriously influence day-to-day quality of life and overall well-being I've noticed people will try just about anything in order to feel better.
Below I explore 3 of the most common routes many people have heard may provide benefit and weigh in on if there is research to support this to be beneficial.
Listen to Part #1:
Listen to Part #2:
Food sensitivity testing (IgG testing)
Are IgG food sensitivity test necessary?
The Canadian Society of Allergy and Clinical Immunology (CSACI) released a position statement after largely being concerned about the increased marketing of food-specific immunoglobulin G (IgG) testing used to identify "food sensitivity," food allergies and food intolerances by alternative health practitioners, online marketers and some pharmacies.
Unfortunately, despite some third-party insurance providers providing coverage for the $400-$1,000 tests, there is no body of research to support the use of this test to diagnose adverse reactions to food or predict future food reactions.
Scientific evidence clearly suggests that positive test results for food-specific IgG is a result of recently eating that food and is a normal response to eating for all of us. These tests are unfortunately increasing the likelihood of false diagnoses resulting in sometimes long lists of unnecessary food restrictions.  
The bottom line:
If you are struggling with digestive issues and worried that you may have a food allergy or intolerance your best bet is to work with your family physician to properly diagnose the correct medical or gastrointestinal issue with the help of a gastrointestinal specialist and/or allergist/immunologist.  
Then working with a Registered Dietitian can properly educate you on the best practical nutrition plan going forward to help you manage your symptoms as well as get all the nutrients you require for long-term health.
Gluten-free diet
What is gluten?
Gluten is one of the proteins found naturally in wheat, rye, barley and cross contaminated oats. Gluten in flour helps to provide baked goods such as bread with structure, strength and texture. Gluten can also be found in smaller amounts in foods such as commercial soups, salad dressings, sauces and other foods made with hydrolyzed wheat protein or other gluten-containing ingredients.
Should I follow a gluten-free diet?

Unnecessarily removing wheat and other gluten-containing foods from your diet could do more harm than good. Wheat, rye, barley and oats supply key nutrients such as fibre and B-vitamins that are good for your health.
Unless you have celiac disease (which the Canadian Celiac Association estimates affects approximately 1 in 133 Canadians) or if you have a non-celiac gluten sensitivity that affects an estimated two to six percent of us, there is no reason to give up gluten and wheat.
Health Canada, as well as health authorities internationally, support whole grains in t
he diet. Research shows consuming whole grains can be helpful in weight management and offer overall satiety in meals.
Do not be misled by popular claims that you can skip grains and just eat vegetables and fruit. Grains provide different types of fibre, B-vitamins, other nutrients as well as phytochemicals that are not found in fruits and vegetables. For optimal health, choose a wide variety of foods.
Low FODMAP diet
You may have heard about what is known as the low FODMAP diet as a potential treatment for IBS (irritable bowel syndrome). FODMAP stands for Fermentable Oligosaccharides Disaccharides Monosaccharide Polyols. FODMAPs are certain types of sugars and fibres that are found in many common foods such as a wide variety of fruits, vegetables, legumes, grains, milk products and sweetening agents.
Although research is still developing, there is some evidence to suggest that a low FODMAP diet can reduce uncomfortable digestive symptoms such as abdominal pain, bloating and excessive gas in individuals with IBS.
Should I follow a low FODMAP diet?
If you have been diagnosed with IBS, before following the very restrictive and complicated low FODMAP diet, consider first working with a Registered Dietitian on overall digestive health strategies. Work on a healthy overall routine for timing and volume of food consumed throughout the day. Then work on a proper fibre and hydration plan and reduce the highest gas producing foods.  
If you are then still struggling with digestive symptoms, explore the low FODMAP diet with your Registered Dietitian as a secondary option. Come up with a clear practical understanding on how to meet your overall health and nutrition requirements with the wide range of foods that are taken out of your diet when following a low FODMAP diet.
Also note that stress and overall mental health play a significant role in overall digestive health symptoms so overall stress management and working with a Registered Psychologist can sometimes be equally important as nutrition strategies in managing good digestive health.
Where can I go for more information?
Working one-on-one with a Registered Nutritionist that specializes in the gluten-free diet for celiac disease, a good digestive nutrition plan and/or the low FODMAP diet for irritable bowel syndrome or other gastrointestinal issue is often helpful. Contact us for a complimentary consultation about working with one of our Calgary nutritionists/dietitians for nutrition counselling support at our office (or by phone or skype based appointments if you live outside of Calgary).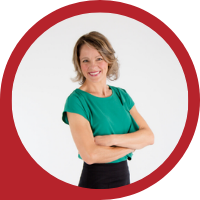 About Andrea Holwegner
CEO, Registered Dietitian, Counseling Practice Director & Professional Speaker
Andrea the «Chocolate Loving Nutritionist» is founder and CEO of Health Stand Nutrition Consulting Inc. since 2000. She is an online nutrition course creator, professional speaker and regular guest in the media. Andrea is the recipient of an award by the Dietitians of Canada: The Speaking of Food & Healthy Living Award for Excellence in Consumer Education....Read more