Dinnerware dilemmas: how your glass, bowl or plate can cause you to eat more
SPECIAL CORPORATE WELLNESS OFFER
Could your organization benefit from videos like these? We are looking for a group to partner with us for a pilot project. Learn more about our Nutrition & Wellness Video License on our website here.
DINNERWARE DILEMMAS How your glass, bowl or plate can cause you to eat more
You might think overeating is because we are really hungry or because the food is really good. Ironically research shows these are two of the last things that influence how much is eaten.
Size matters when it comes to dinnerware and how much we eat. This is because our eyes are more in charge of how much we eat than our stomach.
If you are a junk-food-aholic or struggling with your weight here are some things to consider that can help you curb consumption.
>> Choose tall skinny glasses instead of short fat glasses:
• We see the difference between bottom and top much better than side to side (optical illusion if looking at a vertical vs horizontal line).
• Researcher Brian Wansink found that professional bartenders when asked to pour a perfect 1 oz. of liquor poured 31% more alcohol into short, wide glasses compared to tall skinny glasses.
• Since we pay more attention to height than width choose tall skinny glasses for higher calorie beverages such as pop and even to manage portions of juice or milk if you are drinking an excessive amount.
• The opposite might be true if you need to drink more water (in this case choose short wide glasses).
>> Choose taller skinnier bowls over wider bowls:
• The same thinking for glasses applies to bowls.
• For adults and kids when given a bigger bowl research shows we automatically dish out more. This is important when we are trying to manage portion sizes of healthy foods such as cereal, pasta or nuts. This is even more important when we are dishing out potato chips and candy.
• Even nutrition experts can be fooled. Dr. Brian Wansink found that nutrition professors ate 53% more ice cream when given larger bowls and an increased scoop size that held 3 oz. instead of 2 oz.
• If a taller skinnier bowl didn't seem appealing to you for hard to manage foods such as ice cream consider my trick of having a bowl full of fruit on the bottom and placing the ice cream on top (instead of the reverse). Remember we need to "fill up our eyes" more than filling up our stomach.
>> Choose smaller plates over bigger plates:
• If you compare antique dinner plates to many dinner plates today you will notice the size is getting bigger.
• My sister couldn't fit her supper plates into her cupboard and had to place underneath the counter with the pots.
• If you take the same volume of food and plate it on a large plate versus a small plate you will notice an optical illusion that the food looks more substantial on the smaller plate and less substantial on the larger plate.
• This optical illusion may explain why people may eat more from large plates.
• Our eyes like to see a full plate of food and if you are trying to decrease your overall portion sizes consider switching to side plates rather than extra large dinner plates.
Find out more about our Corporate Wellness Video License by visiting our website: healthstandnutrition.com/nutrition-wellness-video-license/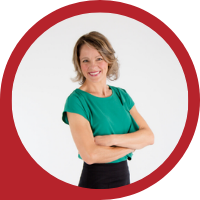 About Andrea Holwegner
CEO, Registered Dietitian, Counseling Practice Director & Professional Speaker
Andrea the «Chocolate Loving Nutritionist» is founder and CEO of Health Stand Nutrition Consulting Inc. since 2000. She is an online nutrition course creator, professional speaker and regular guest in the media. Andrea is the recipient of an award by the Dietitians of Canada: The Speaking of Food & Healthy Living Award for Excellence in Consumer Education....Read more