Embrace: An important movie for everyBODY
"Your body is not an ornament, it is the vehicle to your dreams" – Taryn Brumfitt

#bodyimage #bodypositive #loveyourself
This month I want to encourage you to watch the movie Embrace: One woman's journey to inspire everyBODY. My husband and I recently watched this documentary that explores the issue of body image and weight dissatisfaction. Ladies, watch this movie not only with your girlfriends, but also with the men in your life to help them see the massive challenges facing women.  Guys – if you know a woman struggling with dieting and body hatred, watch this with her and remind her that a woman comfortable in her own skin is more sexy than a beacon of perfection.
If you are like many of the clients we see in our practice that struggle to love their curves, embrace stretch marks and cellulite as part of being a woman, as well as accept the body weight they are naturally supposed to be, this movie could very well be the most important movie you watch this year. Watch the movie to learn how one woman moves from a restricted eating regime and extreme exercise program and then moves instead to respecting her body and fueling her body with nourishing foods and physical activity that builds strength and confidence. Find out why her before and after picture of a fitness model to a curvy confident woman went viral and sparked an international phenomenon.  
This link includes ways to see the film yourself!
I look forward to hearing your thoughts, messages and comments about the movie. Share your comments here on our blog.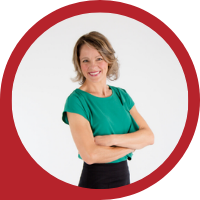 About Andrea Holwegner
CEO, Registered Dietitian, Counseling Practice Director & Professional Speaker
Andrea the «Chocoholic Nutritionist» is founder and CEO of Health Stand Nutrition Consulting Inc. since 2000. She is an online nutrition course creator, professional speaker and regular guest in the media. Andrea is the recipient of an award by the Dietitians of Canada: The Speaking of Food & Healthy Living Award for Excellence in Consumer Education....Read more