Emotional Eating
What to do when you know what to eat but don't follow it
"I know what to eat but I can't seem to follow it" is a common comment that frustrates many of our clients that are trying to improve their health or improve their energy at work.
If you are overweight and struggling with weight loss or working through a disordered relationship with food or an eating disorder (such as anorexia, bulimia or binge eating disorder) you are likely familiar with the strong pull your emotions have on your eating habits.
If you have struggled to follow through on eating according to a plan, you are not alone. In fact, I would say this would describe the vast majority of our clients.
Knowing what to eat is one thing but the biggest challenge with a healthy eating plan is working through why we either follow a plan or get off course. While there are many factors related to why we eat what we eat, our emotions are a large driver.
What effect do emotions have on our eating habits?
It is completely normal to eat differently in response to either negative or positive emotions. Emotional eating only becomes a significant concern if you are frequently eating in a way that makes you uncomfortable and is influencing both your overall physical and mental health.
Think about how different emotions influence what, when, where and how much you eat.
Do you eat more/less or choose different foods when you are happy, peaceful, exhilarated, hopeful, excited, grateful, confident or refreshed?
Do you eat more/less or choose different foods when you are afraid, confused, self-conscious, exhausted, bored, angry, sad or anxious?
Overeating can sometimes be thought of as stuffing uncomfortable emotions that are hard to talk about or feel overwhelming to manage.
Undereating can sometimes be thought of as starving uncomfortable emotions in an attempt to feel more empty, in control, or numb.
What could I do if I am prone to stuffing emotion (overeating)
Work on mindful eating. When you are eating, only eat. Stop multitasking. Eat away from the distractions of driving, working on the computer, surfing on your phone or watching TV.
Slow down the pace of eating. Take a few deep breaths before eating and pause between bites.
Allow yourself to savour your bites and enjoy whatever it is you are eating. Take time to use all your senses to enjoy your meal (sight, sound, smell, taste and mouthfeel/texture).
Plate your food in a bowl or on a plate instead of eating out of bags, packages or containers. This helps your eyes and your stomach connect hunger and satiety cues easier.
Sit down at a kitchen table at home or quite place away from your desk at work. Eating while standing at the fridge or pantry, in your bedroom, while driving or on your computer at work does not create an enjoyable mindful eating experience.
What could I do if I am prone to starving emotion (undereating)?
Many of the above strategies that help for overeating are also useful if you are prone to undereating in response to uncomfortable emotions.
You should also be sure to work on developing what we refer to as a mechanical eating routine which is eating according to a schedule by the clock rather than trusting intuitive hunger cues. If you have been undereating regularly your ability to trust hunger cues will not be reliable and likely lead to further undereating. It is important to first learn to eat according to a set plan rather than how you feel. Often if you are not feeling hungry it is easier to eat smaller meals and snacks (3 meals and 3 snacks) than to try and eat 3 square larger meals.
What else can I do if I am still struggling with emotional eating?
Work with a Registered Psychologist and Registered Dietitian that both specialise in emotional eating and eating disorders, as this is a unique skill and area of practice.
Your dietitian can help you:
dive into both the food, nutrition, body and weight management science to help you effectively learn what, when, how much and why to eat for good health.
learn to decrease anxiety about hard to manage or fear food, dispel myths and eliminate confusion about trendy foods or dieting behaviour.
improve your relationship with ALL foods chosen for both health but also soulful foods chosen for taste, enjoyment, celebration and socialising.
understand the many types of hunger and be able to work towards an intuitive eating relationship with food.
Your psychologist can help you:
dig into the deeper answers to the question "what is eating me?"
understand the interconnected role of your thoughts, emotions and behaviour surrounding health and eating.
work through minor or significant mental health challenges to help you live your best life and shift change.
Where can I find out more information?
Contact us at Health Stand Nutrition

to book a nutrition counselling appointment with an experienced Registered Dietitian that specializes in emotional eating or eating disorders (such as anorexia, bulimia and binge eating disorder).  We can also recommend our favorite psychologists that we collaborate with regularly that can help support you with behavior change.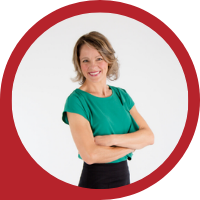 About Andrea Holwegner
CEO, Registered Dietitian, Counseling Practice Director & Professional Speaker
Andrea the «Chocolate Loving Nutritionist» is founder and CEO of Health Stand Nutrition Consulting Inc. since 2000. She is an online nutrition course creator, professional speaker and regular guest in the media. Andrea is the recipient of an award by the Dietitians of Canada: The Speaking of Food & Healthy Living Award for Excellence in Consumer Education....Read more