Emotional Eating
Listen to my podcast where I will help you understand "stomach hunger":
Stomach hunger can be defined as the physical symptoms that remind us we need to eat.
You may relate to signs such as the stomach rumbles, a feeling of emptiness in the stomach or lowered mood, energy or concentration. If you ignore these symptoms, you may even feel hostile, depressed, very lethargic, shaky or headachy.
Children are great role models.  They intuitively trust their own biologic reasons to eat: they naturally eat at sporadic times and the amount they eat always fluctuates based on stomach hunger and growth.
Listen for "emotional hunger"
Chances are good that the main reason you are overeating is not about food at all.
Gorging on a bunch of cookies or chips may be more about feeling unsatisfied and undeserving. It may also be about feeling that your body isn't good enough the way it is or that you are lonely, sad or mad.
Everyone eats for emotional reasons sometimes. It is perfectly normal to eat when you are sad, mad, happy or stressed. However, if your eating is bringing you down and making you feel uncomfortable regularly, there is hope if you are willing to ask yourself some tough questions.
Here are the three most important questions you need to contemplate:
1.  What is eating me? What am I "stuffing"?  If I am eating when I am not truly hungry, is it because I am stressed, sad, bored, angry, worried, etc.?
2.  What am I hungry for? What am I looking for in my life that has not come my way yet? What fulfils me and brings me joy?
3.  How can I comfort myself without food? How else can I soothe or nurture myself? Is there an enjoyable hobby, task or activity that I could do instead of turning to food?
If you are brave enough to really explore these questions and do the work to solve them, I guarantee your relationship with your body and weight will improve.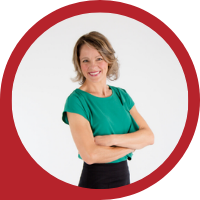 About Andrea Holwegner
CEO, Registered Dietitian, Counseling Practice Director & Professional Speaker
Andrea the «Chocoholic Nutritionist» is founder and CEO of Health Stand Nutrition Consulting Inc. since 2000. She is an online nutrition course creator, professional speaker and regular guest in the media. Andrea is the recipient of an award by the Dietitians of Canada: The Speaking of Food & Healthy Living Award for Excellence in Consumer Education....Read more