Everyday Nutrition for Runners: 5 nutrition principles to build a base
Scotiabank Calgary Marathon
By Andrea Holwegner BSc, RD "The Chocoholic Dietitian" www.healthstandnutrition.com
1. Eat every 3-5 hours and avoid skipping meals.
While various books and so-called health experts have varying opinions on meal and snack timing, what you really need to do is tune in and listen to your body…it really does know best. If you listen hard, your body will give you signals of hunger every 3-5 hours. This means you will need to eat between three and six times per day. Look for signs of true biological hunger such as a dip in focus or concentration, grouchiness or the stomach rumbles.
2. Eat carbs and protein together

Carbohydrates (carbs) are found in grains/starches such as bread, pasta, and rice along with fruits and veggies. You can think of carbs like "gasoline" to fuel the brain and muscles. Carbs are also comfort foods – they boost serotonin in the brain which boosts mood. If you have missed sufficient carbs in your meals your brain will not have the needed energy it needs to get you through the day.
Protein is found in food such as meat, poultry, seafood, dairy foods, eggs, nuts/seeds, legumes such as lentils, chick peas or black beans as well as soy foods such as tofu and soy milk. Protein provides fullness and sustained energy simply because it is slow to digest. If you have missed a source of protein in your meals you will feel highs and lows in your energy.
When you choose meals that are just carbs – you will likely only be full for 1-2 hours and your energy will be sporadic like you are on a rollercoaster. When you choose meals that have protein added you should be full for the 3-5 hours you are looking for. Meals and snacks that have both carbs and protein will keep your energy consistent through the day and help you feel like you are riding a train rather than a rollercoaster. Don't believe me? Take a test. Tomorrow have breakfast with only carbs such as toast with a fruit. Then, the next day have the same breakfast but now this time add a protein such as a slice of cheese, peanut butter, or even a latte! Did you know that one cup of milk or soy milk has more protein than an egg?
3. Build balanced meals
Overwhelmed by the massive assortment of foods you could eat? Start by shopping on the outside perimeter of the grocery store, where most fresh foods are located. Then at breakfast, lunch and supper be sure to choose something from each of the following categories:
Grains/starches such as bread, pasta, rice, potatoes and cereals.
Vegetables and/or fruits, including the fresh, frozen or canned variety, as well as dried fruit and vegetable/fruit juices.
Protein such as red meat, poultry, seafood, eggs, cheese, yogurt, milk, soy milk, beans/legumes, tofu, nuts and seeds.
Snacks can consist of one or more of these items and play a role to tie you over in between meals.
4. Watch portion distortion
For adults, an ideal plate should be composed of half vegetables and/or fruits, one-quarter grains/ starches and one-quarter protein. If you are overweight or trying to lose a few pounds try shrinking down the size of your portions by 10-25 per cent. Small changes facilitated daily offer big payoffs over time.
5. Remember imperfect is perfect!
You can still achieve success while enjoying your favorite foods. Think this is impossible? Watch my videoblog here: http://www.youtube.com/watch?v=nLBC2G4yFwA
______________________________________
Andrea Holwegner is president of Health Stand Nutrition Consulting Inc., media expert for the Dietitians of Canada, professional speaker and independent consultant to Jugo Juice. To ask Andrea your personal nutrition question, visit the "Ask the Dietitian" section of the Jugo Juice website here: www.jugojuice.com.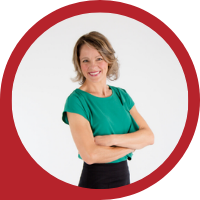 About Andrea Holwegner
CEO, Registered Dietitian, Counseling Practice Director & Professional Speaker
Andrea the «Chocoholic Nutritionist» is founder and CEO of Health Stand Nutrition Consulting Inc. since 2000. She is an online nutrition course creator, professional speaker and regular guest in the media. Andrea is the recipient of an award by the Dietitians of Canada: The Speaking of Food & Healthy Living Award for Excellence in Consumer Education....Read more