Bites from Andrea: Family Cooking Traditions
August is National Peach Month 
I can think of no better way to celebrate #NationalPeachMonth than in the kitchen, cooking with family and friends. 
The heart of the house
I grew up in a family where the kitchen was the heart of the house where everyone gathered. My sister, brother and I learned to appreciate good food and how to cook yummy things that helped us survive when we moved away on our own (thanks, Mom!). Sitting together at dinner was also one of the few times that we all sat together as a family. We shared the good, bad and ugly parts of the day. Research has actually now proven that families that eat together have improved connection and overall health. 
The past few weeks I've been celebrating the bountiful summer fruits in the kitchen, cooking with family and friends. I've been sharing some of my peach, apricot, raspberry, plum and blueberry cooking photos, recipes and tips on Instagram. I'm also introducing our son to the family cooking tradition, including learning to make apricot jam.
My sister Christa Meier and my friend Bruce Sellery each have family rituals that I have appreciated that involve talking about their favorite part of the day or what they are most grateful for. Food always invites conversation – a time to nourish but also a time to connect. 
What are your family kitchen rituals?  Tell us your thoughts on the blog here.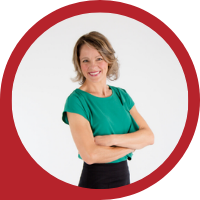 About Andrea Holwegner
CEO, Registered Dietitian, Counseling Practice Director & Professional Speaker
Andrea the «Chocolate Loving Nutritionist» is founder and CEO of Health Stand Nutrition Consulting Inc. since 2000. She is an online nutrition course creator, professional speaker and regular guest in the media. Andrea is the recipient of an award by the Dietitians of Canada: The Speaking of Food & Healthy Living Award for Excellence in Consumer Education....Read more