Downsizing your food and nutrition habits
By Andrea Holwegner, Health Stand Nutrition Consulting Inc.
Stockpiling, bulk buying or purchasing colossal family sized packages instead of smaller packages of food can make it difficult to maintain a healthy body weight. Research has shown that if you have more, you eat more. For example, if you have four boxes of crackers sitting in the pantry you will likely eat more than if you have only one box. While there are some people that can eat only a few pieces of a large chocolate bar, most people (myself included) eat the whole bar. This is why sales of 100-calorie mini chocolate bars and other small snack packs are strong. Food manufacturers are making a good profit by helping consumers manage portions.
Although many people think they overeat because the food tastes really good or because they are really hungry, Dr. Brian Wansink, a leading researcher and author of "Mindless Eating" has shown that a bigger culprit that contributes to overeating is visibility. The more times you see something, the more likely it is that you will eat it. You can tell yourself a dozen times that you don''t need to eat the cookies you pass by in the large glass jar on the counter, but after a few more times of seeing it you will likely give in and eat some. The old saying out of sight out of mind will serve you well.
Convenience can make it difficult to downsize your portions. If you conveniently stockpile large bags of potato chips in the house there is nothing to stop you from continuing to eat a large amount. Research by Dr. Brian Wansink has shown if it is convenient, you will continue to eat until you hit a "pause point" or an interruption (such as reaching the bottom of the chip bag) that forces you to ask whether you want to eat more. Consider going out for foods you know that you overdo rather than stocking them conveniently in your house to gobble down mindlessly.
A few other things that can help you be more conscious of your portions include choosing to portion out your food on the counter and bring only a plate with you to the dinner table rather than eating "family style" with bowls on the table. You will also eat less if you portion out foods into bowls rather than eating them directly from the bag or carton. Consuming food on a smaller plate or from a smaller container can also help.
Thanks for reading!
Andrea Holwegner
"The Chocoholic Dietitian"
Share your comments and similar experiences here on my blog: www.healthstandnutrition.com/blog/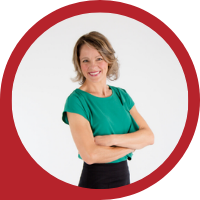 About Andrea Holwegner
CEO, Registered Dietitian, Counseling Practice Director & Professional Speaker
Andrea the «Chocoholic Nutritionist» is founder and CEO of Health Stand Nutrition Consulting Inc. since 2000. She is an online nutrition course creator, professional speaker and regular guest in the media. Andrea is the recipient of an award by the Dietitians of Canada: The Speaking of Food & Healthy Living Award for Excellence in Consumer Education....Read more