February's Focus: Two Important Health Causes
Bites from Andrea: February Focuses on Eating Disorder Awareness Week and Heart Healthy Month 
Eating Disorder Awareness Week was the first week of February. Eating disorders affect many women and men in our communities and in our workplace. Those affected often suffer in silence and feel stigmas that make them hopeless and misunderstood. At Health Stand Nutrition we support nutrition counselling for a wide range of nutrition goals and health challenges, one of our areas of specialty is nutrition support for eating disorder recovery. As eating disorder dietitians we collaborate with your psychologist and physician for anorexia, bulimia or binge eating disorder support. If you, or someone you know, is struggling with a poor relationship with food, their body or an eating disorder consider sharing these links to inspire them along their journey towards better health:
February is Heart Health Month. Heart disease is the leading cause of death for both men and women. While hereditary factors play a factor in heart health, you have choices to build a heart-healthy lifestyle.
Eat healthy foods. Nutrition plays a major role in reducing many of the risk factors for heart disease. The good news is you can achieve better heart health without guilt or complexity. You don't need complicated plans or obscure eating plans to improve your blood cholesterol levels or lower your blood pressure. Working one-on-one with a Registered Dietitian on our team can help make sure you understand the current research on heart health, weight loss and more and help you customize a plan with foods you will enjoy.
Walk, move and incorporate active living in your daily life. A sedentary lifestyle is hard on your heart.
Reduce stress. Stress can cause overeating, sleeplessness, and inactivity. We all have stress, and not all stress is bad or can be eliminated. Learning to manage your stress contributes to a healthier heart and lifestyle.
Quit smoking. Studies show again and again that smoking contributes to a less healthy lifestyle, including heart disease, bone loss, stroke and other conditions.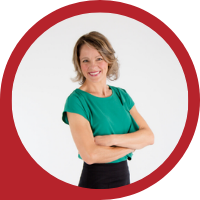 About Andrea Holwegner
CEO, Registered Dietitian, Counseling Practice Director & Professional Speaker
Andrea the «Chocolate Loving Nutritionist» is founder and CEO of Health Stand Nutrition Consulting Inc. since 2000. She is an online nutrition course creator, professional speaker and regular guest in the media. Andrea is the recipient of an award by the Dietitians of Canada: The Speaking of Food & Healthy Living Award for Excellence in Consumer Education....Read more