FIGHT for the Family Meal
FIGHT for the Family Meal
Back to basics for better health, happiness, and success.
I grew up in a family of five where we were all expected to be home for dinner at 6pm to eat together. When I think back – I don't remember ever begrudging this even as a moody teenager. It's probably because it was just "normal" and an expected part of the day. Supper was likely the only time of the day where all of us got together and actually communicated amongst busy schedules, sports, and school/work commitments. I reflect back now and realize how lucky I was to have parents (especially a mom) who fought to make sure we ate together as a family.
A 2008 research review article found that only about one-quarter to one-half (25-57%) of adolescents consume meals with their family regularly (five or more times a week) 1. Could this be partly the reason that over one-quarter of Canadian children and adolescents are overweight or obese? 2 Do dwindling family meals have anything to do with the fact that eating disorders rank as the third most common chronic illness in adolescent females? 3 Could simply eating together as a family help the estimated 50% of girls and 30% of boys that report they are dissatisfied with their bodies? 4 I believe it can!
Elevated nutrient intake. Families that eat together generally eat more fruits, veggies, fibre, vitamins and minerals and consume less fried foods, soda and unhealthy fats 5-8.
The more often you have family meals, the less likely your teen will use and abuse tobacco, alcohol, and marijuana; have a low grade point average; depressive symptoms; and become suicidal 9.
Families that eat together are less likely to be overweight and have disordered eating habits 1, 10-11
You can't assume that your kids are going to learn the critical healthy eating messages they need outside your home. Modeling good eating habits and teaching them basic cooking skills starts at home. Don't leave it up to fast food restaurants and food marketers selling high-fat, high-sugar, high-salt convenience foods to tell your kids what to eat. At home you can armor your kids with a strong body image and sensible habits. Otherwise, you will find your kids susceptible to the crazy diet messages from the media or you may find them searching for answers in magazines profiling "perfection" for females or unrealistic muscle maniacs for males. You have a critical role in shaping the health of your family. It is up to you.
What positive changes could happen in your family if you made family meals a priority? Make it your goal to eat ONE meal every day together as a family. Try supper or even breakfast. If this sounds overwhelming remember that bite-sized changes have supersized results. Try starting with Sunday dinner or Saturday brunch and build from there.
References:
1. Can J Diet Prac Res. 2008; 69:14-22. Woodruff S, Hanning R. A Review of Family Meal Influence On Adolescents' Dietary Intake.
2. Statistics Canada. Margot Shields. Nutrition: Findings from the Canadian Community Health Survey 2004. Issue no. 1. Measured Obesity Overweight Canadian children and adolescents. http://www.statcan.ca/english/research/82-620-MIE/2005001/pdf/cobesity.pdf
3. Pediatr Ann 1992;21:752-9. Whitaker AH. An epidemiological study of anorectic and bulimic symptoms in adolescent girls: Implications for pediatricians.
4. Health Educ Res. 2006 Dec;21(6):770-82. Epub 2006 Sep 8. Jess Haines J, Neumark-Sztainer D. Prevention of obesity and eating disorders: a consideration of shared risk factors.
5. J Am Diet Assoc. 2003 Mar;103(3):317-22. Neumark-Sztainer D, Hannan PJ, Story M, Croll J, Perry C. Family meal patterns: associations with sociodemographic characteristics and improved dietary intake among adolescents.
6. Pediatrics. 2005 Oct;116(4):e518-24 Taveras EM, Berkey CS, Rifas-Shiman SL, Ludwig DS, Rockett HR, Field AE, Colditz GA, Gillman MW. Association of consumption of fried food away from home with body mass index and diet quality in older children and adolescents.
7. J Adolesc Health. 2004 Nov;35(5):350-9. Neumark-Sztainer D, Wall M, Story M, Fulkerson JA. Are family meal patterns associated with disordered eating behaviors among adolescents?
8. Arch Fam Med 2000; 9:235-240. Gillman M, Rifas-Shiman S, Frazier L, Rockett H, Camargo C, Field A, Berkey C, Colditz G. Family dinner and diet quality among older children and adolescents.
9. Arch Pediatr Adolesc Med. 2004;158:792-796. Marla E. Eisenberg, ScD, MPH; Rachel E. Olson, MS; Dianne Neumark-Sztainer, PhD, MPH, RD; Mary Story, PhD, RD; Linda H. Bearinger, PhD, MS. Correlations Between Family Meals and Psychosocial Well-being Among Adolescents
10. Obesity 2005;13:900-906. Taveras et al. Family Dinner and Adolescent Overweight.
11. Neumark-Sztainer, Dianne, Wall, Melanie, Story, Mary, Fulkerson, Jayne A. (2004). "Are Family Meal Patterns Associated with Disordered Eating Behaviors Among Adolescents?" Journal of Adolescent Health, 35(5):350-359.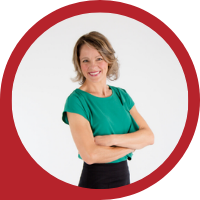 About Andrea Holwegner
CEO, Registered Dietitian, Counseling Practice Director & Professional Speaker
Andrea the «Chocolate Loving Nutritionist» is founder and CEO of Health Stand Nutrition Consulting Inc. since 2000. She is an online nutrition course creator, professional speaker and regular guest in the media. Andrea is the recipient of an award by the Dietitians of Canada: The Speaking of Food & Healthy Living Award for Excellence in Consumer Education....Read more