Fitness or Nutrition: What's Your Workplace Wellness Focus?
Nutrition Has an Immediate Impact on Employee Performance 
Too often corporate wellness programs focus on fitness and miss the benefits of improved nutrition. 
Business productivity experts often speak about the high cost of unproductive workers due to distracted work environments, ineffective business systems and poor leadership. Ironically, eating habits are often overlooked, yet I can think of nothing that has a more direct and immediate impact on employee productivity. Nutrition and wellness are part of a company's corporate culture: good or bad. Forward-thinking organizations (such as many currently in the tech or creative industry) are leading the way by recognizing the role offering healthy food to employees has in boosting retention, happiness and company culture.
Nutrition is often neglected in corporate wellness programs. One thing I see is that too often workplace wellness programs focus on fitness but fail to support nutrition, which has an IMMEDIATE influence on productivity, energy, concentration and our ability to combat stress. According to the CDC, healthy eating should become an inherent part of organizational change and corporate culture. Companies that value a healthy work environment implement programs, policies and activities that foster healthy employees and work/life balance. 
The ROI on comprehensive, well-run employee wellness programs can be as high as 6 to 1
When employee health and nutrition are not maximized, employers have
higher health benefit costs
more employee absenteeism:sick days, burn-out and stress leaves
safety concerns
lost productivity
turnover
Studies repeatedly show that healthier, less stressed out employees are happier, more creative and ultimately more productive.
6 jobs with the highest need for workplace nutrition support:
Organizations with employees that have costly and unfavorable health risk assessment results from biometric screening such as obesity, diabetes, high cholesterol, high blood pressure and depression.
Employees with high stress, fast-paced work and family demands and where taking time to shop, cook and prepare healthy food can be a challenge.
Shift workers since research shows they have a higher risk of sleep loss, obesity, cardiovascular disease, diabetes, digestive issues, depression, stress, relationship issues, fatigue, poor concentration and reduced productivity.
Field workers who travel regularly for their work and eat out in camps, restaurants, fast food outlets and convenience stores in remote locations.
Corporate travelers who often eat in airports, restaurants and at client locations.  Traveling and eating out takes a toll on personal health, energy, stress management and sleep.
Sales teams, front-line workers, customer service workers, IT and designers that need enhanced confidence, resiliency and creativity for their work.
Research by WorkLifeFit shows that 45% of full-time employees don't participate in exercise or other wellness-related activities either through their workplace or on their own. In fact, teleworkers are more likely than their office-based counterparts to pursue wellness activities outside of work. 
Making good nutrition choices is something that employees are willing to do if the options are available at work. 
10 Productivity-Boosting Snacks
Employers who want to provide healthy snacks for the workplace should follow the basics of good energy and blood sugar management. An ideal snack for productivity should contain a mix of both carbohydrates and protein. Your brain and central nervous system run exclusively on carbohydrates (sugar) found in foods such as grains, legumes, vegetables, fruit, milk and yogurt. You need protein such as meat, poultry, seafood, eggs, nuts, seeds, dairy foods and legumes to sustain energy and fullness longer.
Here are some workplace snack options employers can supply or purchase from a local catering company:
Trail mix or separate containers of nuts (such as almonds, pecans, walnuts, pumpkin seeds) and dried fruit (such as raisins, figs, prunes and apricots).
Mini cans of flavoured tuna and whole grain crackers.
Healthy cereal/parfait station (low sugar, high fibre boxed breakfast cereals, oatmeal, granola, hemp hearts, chia seeds, dried fruit, fresh fruit, cartons of milk and containers of yogurt).
Healthy smoothie station (supply blenders, yogurt, bananas, frozen unsweetened berries/mangoes/peaches, yogurt, milk and almond milk).
Unsweetened applesauce cups, fresh whole pieces of fruit (such as bananas, apples, pears, oranges) and individual packages of cheese (or catered fruit and cheese tray).
Trays or individual containers of raw veggie and dip.  Also consider bowls or individual portions of Caprese salad, Greek salad, bean salads or quinoa veggie salads.
Whole grain bread, mini-bagels or English muffins and nut butters (such as peanut butter, almond butter) along with cream cheese.
Hard cooked eggs (store bought packs of two or catered) and fresh fruit.
Chilled shrimp, chicken, beef or pork and veggie skewers.
Greek platter with whole wheat pita bread, hummus, tzatziki and/or baba ghanoush.
a version of this article appeared on LinkedIn
Contact Andrea Holwegner to discuss corporate wellness programs at your workplace.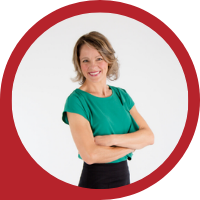 About Andrea Holwegner
CEO, Registered Dietitian, Counseling Practice Director & Professional Speaker
Andrea the «Chocolate Loving Nutritionist» is founder and CEO of Health Stand Nutrition Consulting Inc. since 2000. She is an online nutrition course creator, professional speaker and regular guest in the media. Andrea is the recipient of an award by the Dietitians of Canada: The Speaking of Food & Healthy Living Award for Excellence in Consumer Education....Read more