Garden Geek & Farmer's Market Fanatic
Yup – it is indeed my favorite time of year. You can call me a garden geek and a fanatical Farmer's Market shopper.
While many folks find gardening and pulling weeds a miserable way to spend an afternoon, I personally love playing in the dirt.  As a mom of a five year old boy, we spend lots of time digging in the dirt, finding worms, and watching things grow.  Despite chasing a bunny out of the yard and some sort of bug that decided to chew through virtually all of my arugula, it has been a good year for the garden.  I am pumped that I haven't killed my basil like in previous years, and I think it is going to be a record year for my tomatoes.  (Although I am still confused about how much to prune tomato plants, so if you have any tips send them my way!)
No garden, no worries?  Make a trip to the Farmer's Market. Nothing beats the taste of the new carrots, baby potatoes, and fresh grown local fruit and veggies.  If you have some freezer space, you may also get inspired to freeze some fruit to help you get through the boring selection in the winter.  I have a large freezer, and each year you can find me buying flats and cases of fruit to freeze for smoothies, fruit crisps, breakfast fruit sauces, oatmeal, and yogurt parfaits for the whole year. Give it a try!   To prepare fruit for freezing, here are some tips I learned from my mom years ago.   Simply wash the fruit, follow these steps below, and toss into small freezer bags in 1-2 cup portions:
Blueberries and Saskatoons: Simply wash and toss in small freezer bags.
Strawberries: Wash, remove stems and slice.
Peaches: Blanch (place in a pot of boiling water for 1 minute to help soften skins to make them easy to remove), slice, and toss with a bit of lemon juice to prevent browning.
Raspberries and blackberries: Gently wash in a strainer and dry briefly on paper towel or tea towels.  Spread on large baking sheets and place in the freezer.  Once frozen, use a flipper to gently remove and then toss into bags.
Apricots and plums: Wash, remove pit, and slice. Toss with a splash of lemon juice to prevent browning.
Apples: My mom recommends Transparent apples which you can find for a short time each year at the Farmer's Market.  These are awesome since they are soft for baking and making into applesauce, and the skin is not tough and does not need to be removed.  Simply slice and toss with a splash of lemon juice.
What is your favorite way to enjoy Farmer's Market and garden cuisine?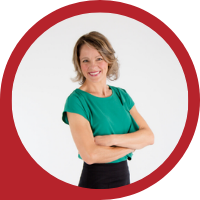 About Andrea Holwegner
CEO, Registered Dietitian, Counseling Practice Director & Professional Speaker
Andrea the «Chocoholic Nutritionist» is founder and CEO of Health Stand Nutrition Consulting Inc. since 2000. She is an online nutrition course creator, professional speaker and regular guest in the media. Andrea is the recipient of an award by the Dietitians of Canada: The Speaking of Food & Healthy Living Award for Excellence in Consumer Education....Read more