Good things come to those who wait
4 Lessons I learned from parenting that apply to wellness
By Andrea Holwegner, Health Stand Nutrition Consulting Inc.
On July 8th, 2010 I gave birth to a handsome little boy which my husband Mike and I named Saul. We chose the name Saul because we liked the Latin meaning of his name which was "strength." Little did we know the meaning of his name would really ring true in a way we didn't anticipate. Saul started his journey into this world as an emergency C-section, then had jaundice and then surprised us by testing out the strength of his lungs because he is colic. As new parents we knew that babies cry, but nothing can prepare you for the painful, sustained cries of a colicky baby. We spent many agonizing hours holding our little man and doing laps around our house trying to calm him. Thank goodness we also had the help of our parents to take turns holding him. One day Saul cried uncontrollably for seven hours and it brought me to my knees. I remember thinking that this was so much harder than I expected and that I wasn't strong enough to get through this. I wondered if I was cut out to be a mother. I missed my old peaceful and independent life. All the resources I read about colic said that it would get better by 3 months. After week four, this seemed like an eternity.
Just when you think you can't manage another day, and have tried every strategy possible, at eight weeks things started to shift. Something helped. Whatever it was, I celebrated the windows of time where Saul wasn't crying. Recently in the one morning after I fed Saul and he was sitting on my lap peacefully, he smiled at me for the very first time. That smile melted my heart and allowed me to feel like everything we had endured was worthwhile.
While you may not be able to relate to my experience directly, chances are you have faced some significant challenges in your life. My experience with Saul has reminded me of some important lessons about lifestyle change:
Be patient and stick it out. Whatever change you are hoping for is going to take time. If you are trying to reduce your cholesterol it takes at least 3 months of lifestyle changes to have it show up in your blood work. If you are trying to lose weight keep in mind that a healthy amount of weight loss is 1/2 to 1 pound per week. The diet industry will make you feel like a failure if you have only lost a few pounds per month but in reality this is perfect progress for most people. Just because you are progressing slow and steady doesn't mean you are failing.
Change is messy. Often we have a stepwise plan and vision about how change will progress and forget that while we are making changes, life happens. You could be trying to cook more healthy meals at home and feel frustrated that you are throwing out a drawer full of fresh produce because your schedule was so busy with work commitments you didn't have time to get to them. You may decide to give up on your goal entirely or instead why not look at your calendar and attain your goal two days out of seven days this week. Go easy on yourself and remember that each time something doesn't go well you are not starting at square one again, instead you have just learned something important to help support yourself for success.
Enlist support. Positive energy is contagious. You need to surround yourself by inspiring positive people that will be your cheerleaders when the going gets tough. If your goal is to get more active take a hard look at the people that you surround yourself with in your free time. Are they helping you or harming you with this goal?
Good things come to those who wait. Working hard for something often makes you appreciate it that much more. When you have had to work to change something in your life you won't take it for granted, instead you will be filled with an abundant sense of gratitude for all that you have.
Thanks for reading!
Andrea Holwegner
"The Chocoholic Dietitian"
Share your comments and similar experiences here on my blog: www.healthstandnutrition.com/blog/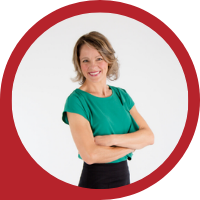 About Andrea Holwegner
CEO, Registered Dietitian, Counseling Practice Director & Professional Speaker
Andrea the «Chocolate Loving Nutritionist» is founder and CEO of Health Stand Nutrition Consulting Inc. since 2000. She is an online nutrition course creator, professional speaker and regular guest in the media. Andrea is the recipient of an award by the Dietitians of Canada: The Speaking of Food & Healthy Living Award for Excellence in Consumer Education....Read more