The Spooky Topic of Halloween Candy
Parenting tricks for treats
Halloween is one of the most popular holidays for many kids. Many parents wonder what the best strategy for how to manage the large pillow sack full of treats and sweets they come home with after trick-or-treating. Here are some things parents and caregivers can keep in mind that will allow kids to have fun at this time of year while still respecting health.
How do we teach kids about junk food in general?
Take the approach that there are no bad foods, just bad diets.  What you do between Halloween this year and next year is relevant, what happens on October 31 is irrelevant.
Trying to label each and every food as good or bad does more harm than good in teaching kids a healthy relationship with food.
We all want what we can't have and the more you try to restrict your children's intake or deny them autonomy to enjoy fun foods the more power struggles you may have around food.
If you tell your kids that treats are off limits, don't be surprised when they go to a neighbor's house and eat an excessive amount of junk food.
I've also noticed that our adult clients that grew up in homes where no junk foods were allowed, food was labeled as good or bad, or had parents who were chronic dieters often struggle with disordered eating or obesity. Children learn what they live.  Parents and caregivers need to model and help kids understand the balance between eating fully (healthfully and soulfully).
How can we help kids manage candy on Halloween night?
Be a dolphin parent
When it comes to Halloween and helping kids plan meals I am reminded of a workshop I attended recently by psychologists Dr. Joanne Dolhanty and Dr. Adele Lafrance Robinson that reviewed animal analogies for the types of caregiving. Kangaroo parents are overprotective and rhinoceros parents are forceful and too directive. The best approach is dolphin parents who offer just enough support and nudge in the right direction but are neither forceful or hands off.
Halloween candy needs to be treated the same as how you manage other sweets. Teach and model that all foods can fit and that most of the time we want to eat "grow foods" or foods that nourish our health and wellness and that sometimes we eat "fun foods" simply for taste or for celebration and social fun.
Make sure you are feeding kids a healthy, balanced supper meal before going out for trick or treating and let them know when they get home there will certainly be the opportunity for them to select candy to enjoy.
You say there are a couple of options on managing Halloween candy?
There are varying opinions about how to manage Halloween candy, similar to varying parenting strategies on handling sleep or tantrums. Which one is best for you will depend on your child, your child's age and your parenting style.
Option #1: Kids manage the stash
The following is one option from Registered Dietitian, author and well-known kids feeding specialist Ellyn Satter.
Her approach to feeding is as follows:
Parents are responsible for deciding the what, when and where of feeding.  This includes providing leadership to maintain the structure of meals and snacks and limiting foods and beverages between meals.  Parents also take the lead on modeling good habits, making mealtimes pleasant and teaching appropriate mealtime behavior.
Kids are responsible for deciding how much to eat based on the leadership and structure provided by parents.  This means that parents and caregivers need to trust kids will become competent eaters when they are offered food and we allow them to respect their own intuitive hunger patterns to eat as much or as little as he or she wants.
When kids come home from trick or treating, let them sort and celebrate the amazing stash of candy they collected. Allow them to eat as much as they want on Halloween and the day after. Then have them put away and manage their own candy with the guideline they can have a few pieces after meals for dessert and as much as they want for snack time. Watch and see if your child can follow the rules and if they are can't, then you keep the stash and help to follow through with the plan.
Pediatric nutrition specialist at our practice, Sherene Sieben, offers her kids the option to keep all or some of the candy or sell it to her and her husband at $0.10 per piece or a flat fee for the stash. This provides kids with ownership and choice which results in far less power struggles and teaches them how to manage choice when they are adults.
Reference:  http://ellynsatterinstitute.org/fmf/fmf30english.php
Option #2: Parents manage the stash
Another option is from Yani Freedhoff, family doctor, assistant professor at the University of Ottawa and founder of Ottawa's Bariatric Medical Institute. Use Halloween as a teaching moment about nutrition and candy. When the kids come home from trick or treating, have them pick their top three favorites and take time to savor and enjoy these.
He also notes, "The rest? Well it goes into the cupboard and gets metered out at a rate of around a candy a day… but strangely… and I'm not entirely sure how this happens… after the kids go to sleep the piles seem to shrink more quickly than math would predict."
You could also consider donating some to the food bank or the option of a visit from the "Switch Witch" that visits like the Tooth Fairy as you sleep that looks for candy to switch for toys.
Reference: http://www.weightymatters.ca/2013/10/making-halloween-little-bit-less-of.html
Where can I find out more information?
Visit www.healthstandnutrition.com and also post your comments about how you are planning to approach Halloween with your kids below.
I'll be speaking more about this issue on Alberta Primetime (Shaw cable 13) on  Wednesday, October 30, 2013 at 6:00pm.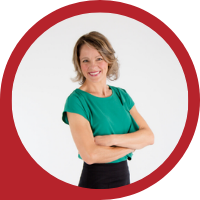 About Andrea Holwegner
CEO, Registered Dietitian, Counseling Practice Director & Professional Speaker
Andrea the «Chocolate Loving Nutritionist» is founder and CEO of Health Stand Nutrition Consulting Inc. since 2000. She is an online nutrition course creator, professional speaker and regular guest in the media. Andrea is the recipient of an award by the Dietitians of Canada: The Speaking of Food & Healthy Living Award for Excellence in Consumer Education....Read more