Healthorexia
By Andrea Holwegner RD, Health Stand Nutrition Consulting Inc. – for IMPACT magazine
I recently coined the term healthorexia in my nutrition consulting practice after working with yet another female client, who didn't have an eating disorder but seemed to be taking the healthy eating message a bit too far.
Karen was like many people—just trying to do the right thing. She was eating every two hours on a strict regimen, avoiding high glycemic foods such as bananas, which could spike blood sugars, avoiding butter and white rice like the plague, and eating whole grains such as brown rice (never white rice). Karen was also worried that carbs were making her fat and that protein bars and supplements were the answer for weight control.
While there is truth and reason for all of the choices she was making, I asked Karen if she was actually enjoying what she was eating. She hesitated and seemed stressed by the mundane patterns she had implemented for months. She appeared betrayed that her body would not let go of unwanted pounds. She cracked a smile when I asked her if she thought anyone had actually gained weight eating too many bananas. She also grinned when I asked her why the whole continent of Asia was not overweight eating a high-carb diet based on large amounts of white rice.
Figuring out food and how to balance your nutrition is a challenge, considering there is conflicting information wherever you turn. Sometimes with so many options, I think we complicate things more than we need to do. I vote for simplifying eating by starting with a basic principle of balancing health and enjoyment.
Balancing Health & Enjoyment
While healthy eating is absolutely important, so is enjoying your food and being flexible in your relationship with it.
I meet many people that make all their choices based on taste with little consideration to health. While this is not the answer and can lead to health issues, a diet based on nutritional perfection isn't ideal either.
IMPERFECT Is Perfect
Give yourself permission to enjoy all foods, and remember, there are no bad foods. We all want what we can't have—trying to remove your favourite foods will only lead to overdoing them and feelings of failure for not sticking to your perfect eating regime. It is better to have small portions of something you really enjoy more often than binge uncontrollably with feelings of guilt.
See the BIG PICTURE
There are twenty-one meals in a week—if a few are not ideal, don't worry about it! If you had three meals last week that were a nutrition disaster realize this is still a score of eighty-five per cent on your diet, which is pretty good. Remember to celebrate your successes rather than just notice your failures.
Tune In & TRUST
If you seriously tune in and trust your body, it won't let you down. Intuitively you know what is good for you. Start small, choose not to go on a diet and toss out forbidden food lists. Listen to your body for hunger and satiety cues.
As Karen discovered, white rice, bananas, and a bit of butter on her toast are not the root of all evil, just as bars, shakes, and supplements were not as enjoyable for her as eating a tasty meal. Now Karen trusts her own intuition and includes a variety of pleasurable foods daily.
For me, as the "chocoholic dietitian," balancing health and enjoyment means choosing nutritious foods daily that give me energy and nourishment. It is also means indulging in chocolate regularly.
Food provides nourishment for our body, but it tastes good because it is meant to be enjoyed and celebrated.
Andrea Holwegner, "The Chocoholic Dietitian," is a Calgary-based professional speaker and president of Health Stand Nutrition Consulting Inc. Visitwww.healthstandnutrition.com or call (403) 262-3466 for more information about nutrition coaching, workplace wellness, and conference keynotes.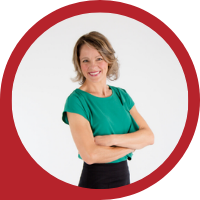 About Andrea Holwegner
CEO, Registered Dietitian, Counseling Practice Director & Professional Speaker
Andrea the «Chocolate Loving Nutritionist» is founder and CEO of Health Stand Nutrition Consulting Inc. since 2000. She is an online nutrition course creator, professional speaker and regular guest in the media. Andrea is the recipient of an award by the Dietitians of Canada: The Speaking of Food & Healthy Living Award for Excellence in Consumer Education....Read more