Healthy Cooking Tips from Canada's Top Culinary Dietitians PART 2
In part two of my interview with some of Canada's top culinary dietitians I will share with you their ideas for how to make traditional foods a bit healthier as well as fast healthy supper meals that can be cooked in 30 minutes or less.  Experts will also share their favorite cookbooks and sources for inspired healthy cooking.
Patricia Chuey
www.patriciachuey.com  @PatriciaChuey
West Coast BC's "Foodtritionist" (home economist-dietitian hybrid) and author of six cookbooks.
How to make traditional foods a bit healthier:
Make a "creamy" pasta sauce like a Fettuccine Alfredo with light evaporated milk, a little white wine, garlic and chicken stock instead of butter and cream.
Use lentils to reduce the amount of ground meat (and fat) needed in a tomato meat sauce for pasta, in hamburger patties or meatloaf.
Slice potatoes, sweet potatoes or yams, toss lightly in olive oil and bake to make "fries" instead of deep frying.
Use hummus, olive tapenade or olive oil and balsamic as flavourful toppings for bread and crackers instead of butter.
Fast healthy supper meals in 30 minutes or less:
Seafood burgers – like hamburgers but made of canned salmon, crab or tuna mixed with egg, breadcrumbs and seasonings and pan-fried.
Lentil 'meat' sauce for pasta.
Any lean meat and veggies all on the BBQ. I like to grill zucchini strips, whole mushrooms, bell pepper halves…even potatoes that have been lightly pre cooked by boiling or microwaving and then tossing in a little oil and grilling.
Egg, tuna or salmon salad sandwiches – enhanced with minced dill, celery, green onion and bell peppers.
Breakfast for dinner: Whisk eggs, add milk and chopped veggies – bake Frittata in less than 30 minutes.
Recommended resources:
Patricia's e-book!  The 80-20 Cookbook: Eating for Energy Without Deprivation.  130 recipes available as a downloadable e-book on Amazon.com.
Simply Great Food, 250 Quick, Easy and Delicious Recipes.  Dietitians of Canada: Patricia Chuey, Eileen Campbell and Mary Sue Waisman. (2007, Robert Rose).
Patricia contributes to recipes on www.JillianHarris.com and Sunday's in the Province Newspaper (Vancouver) which are available online.
She owns about 300 cookbooks so it is hard to pick favorites but she does like Jamie Oliver's books.
Adam Hudson
www.demosfordietitians.com @adamhudsonRD
Port Hope Community Health Centre dietitian and co-owner of Demos for Dietitians.
How to make traditional foods a bit healthier:
For soups instead of cream blend potato and veggies with stock to create a puree and then thin with milk to give a creamy texture.
Caesar salad can be made with soft tofu.
Brownies can be made with black beans.
Add vegetables or roasted vegetables into traditional foods (such as butternut squash ravioli).
For open faced sandwiches focus more on vegetables to increase the volume of your sandwich.
Make shepherds pie with a mix of cauliflower and potato instead of potato alone.
Make macaroni and cheese with grated carrots and zucchini.
Make a healthier poutine by using roasted potatoes or yams and top with a good quality cheese and gravy (made from homemade or bought stock with flour, water, fresh thyme, pepper and rosemary).
Fast healthy supper meals in 30 minutes or less:
Pan seared chicken: Sear chicken breast then remove from the pan and set aside.  In the same stainless steal pan then add orange juice (or alternatively wine, apple cider vinegar, balsamic vinegar or sherry) and stock and reduce to half the volume.  Toss in vegetables (carrots, green beans, broccoli or asparagus) and add back chicken warm.  Thicken with a teaspoon of flour if needed.
Salmon rice pilaf:  Cook rice with grated carrot, diced onion and when it has 10 minutes left. Season with salt and pepper as well as cumin and paprika or alternatively fresh dill.  Add salmon on the bed of rice and steam.
Thai chicken burger on the BBQ with grilled veggies:  In a bowl mix one pound ground chicken, one diced shallot, 1 clove garlic, fresh cilantro, turmeric, hot pepper, salt and pepper.  Form into patties and grill on BBQ.  While the burgers are grilling toss halved red peppers, asparagus and zucchini strips in olive oil and balsamic vinegar and grill.
Recommended resources:
Cook!  Dietitians of Canada.  275 Recipes Celebrated from Field to Table.  Mary Sue Waisman. (2011, Robert Rose).
How to Cook Everything.  Completely Revised 10th Anniversary Edition. 2000 Simple Recipes for Great Food.  Mark Bittman (2008, Houghton Mifflin Harcourt).
Cooking Light Way to Cook: The Complete Visual Guide to Everyday Cooking.  Editors of Cooking Light Magazine.  (2009, Oxmoore House).
For the Love of Soup.  Jeanelle Mitchelle.  (2010, Whitecap Books Ltd).
The Flavor Bible.  The Essential Guide to Culinary Creativity Based on the Wisdom of America's Most Imaginative Chef's.  Karen Page and Andrew Dorenburg (2008, Little, Brown and Company).
Stephanie Clairmont
www.stephanieclairmont.com @GlutFreeItalian
Owner of Clairmont Digestive Clinic, Waterloo and co-owner of Demos for Dietitians.
How to make traditional foods a bit healthier:
Make a cream of mushroom soup with a cashew cream (take equal parts of cashews or other nuts and water and puree to create a thick cream and healthier type of fat).
Make risotto regularly – it is naturally creamy and traditionally not made with cream.  Add roasted butternut squash for a delicious and highly nutritious top up.
Add frozen berries as well as kale, spinach or other greens directly in your smoothie.
Keep ground flax, hemp seeds and chia seeds on hand for quick add-ins to your meals.
Fast healthy supper meals in 30 minutes or less:
Black bean quesadillas: mashed black beans with avocado, grated cheese, spinach, onion and topped with sour cream and salsa/diced tomatoes.
Pan-fried fish:  Toss white fish fillets (tilapia, sole etc.) into flour, shake off excess and brown in a metal pan with olive oil.  Serve with salad and bread (or quinoa or rice).
Pasta stir-fry: Toss pasta into boiling water and meanwhile in another pan sauté fennel, peppers, green beans and diced tomatoes in olive oil.  Toss cooked scallops, shrimp, fish, beans or leftover chicken into the veggies along with pasta.
Recommended resources:
Kristyn Hall
www.calgary.healthcastle.com  @krisynhall
"Personal trainer in the kitchen" and Calgary consulting dietitian/nutritionist.
How to make traditional foods a bit healthier:
Add white bean puree into Caesar salad dressing to reduce the total oil content.
Add in pureed cauliflower to mashed potatoes to reduce the overall calories.
Add in cooked mushrooms and rice to meatloaf to reduce total fat content.
Use a variety of whole grains when making risotto to include more whole grains and fibre.
Add fruits and veggies into your sandwiches:

Sliced fruit such as strawberries, apples, pear, banana and pineapple.
Roasted vegetables such as sweet potato, onions and bell peppers.
Shredded vegetables like carrots, beets or cucumber.
Diced celery, fennel or jicama.
Capers or pickled vegetables
Fast healthy supper meals in 30 minutes or less:
Recommended resources:
Heather McColl
www.freshsheetnutrition.com  @HeatherRD
Save-On-Foods dietitian, chef, co-author/contributor to several cookbooks, food stylist and Vancouver blogger.
How to make traditional foods a bit healthier:
Pair rich foods with healthy foods to balance it out:
Burger with colourful salad or go bunless with your burger and pair it with roasted/baked/grilled potatoes.
Choose unsalted tortilla chips to go with salsa.
Ribs with coleslaw that has colour (carrots, green and purple cabbage) and a yogurt-based dressing.
Omelet with loads of sautéed veggies like kale, tomatoes and leeks.
If you like avocado in your salad, use it as your dressing.
Serve the rich foods as an appetizer or in small bites to keep the serving size on the small side.
Fast healthy supper meals in 30 minutes or less:
Lettuce Wraps – her favourite stand-by that has lots of potential options for protein, veggies, spices and even lettuce and it's oh-so-flavourful.
Barley Risotto – a great way to use up leftover meat, poultry, edamame beans, tofu and veggies.
Thai-style Coconut Soup – with rice noodles or leftover brown rice, bean sprouts, carrots, mushrooms, bell peppers, chicken stock and coconut milk and spices of course.
Fish Tacos – sautéed or baked fish with coleslaw and cilantro with corn or whole grain tortillas.
Recommended resources: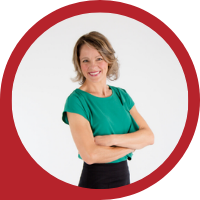 About Andrea Holwegner
CEO, Registered Dietitian, Counseling Practice Director & Professional Speaker
Andrea the «Chocolate Loving Nutritionist» is founder and CEO of Health Stand Nutrition Consulting Inc. since 2000. She is an online nutrition course creator, professional speaker and regular guest in the media. Andrea is the recipient of an award by the Dietitians of Canada: The Speaking of Food & Healthy Living Award for Excellence in Consumer Education....Read more