Healthy Lunches for Runners with Busy Schedules
Quick lunch packing ideas and eating out solutions
By Andrea Holwegner BSc, RD "The Chocoholic Dietitian"www.healthstandnutrition.com
Often runners focus their attention on the meal immediately before a run or the few days leading up to a race. While this is important, prioritizing your daily meal and snack choices in the months and weeks leading up to the event is critical to optimize your running performance, recovery and ability to keep your immune system strong. Lunch is often a meal that is poorly planned for busy people and can result in quick fix meals that are not ideal to meet your nutrition needs. To structure a healthy lunch, think about planning three things. Include starches/grains with fruits and/or vegetables and a source of protein.
Here are a few lunch ideas to get you started:
Packed lunches for the office
Leftover chilli or hearty soup from supper last night or your freezer. Whole grain bun. Tomato juice. Fresh kiwi or strawberries.
Vegetable soup with whole grain crackers and pre-flavored mini tin of tuna. Cantaloupe or melon wedges.
Whole grain wrap with hot or cold refried beans, sliced avocado, grated cheddar or crumbled feta cheese and salsa. (assemble at work)
Healthier food court, mall and airport options
Wrap, panini or sandwich with chicken or lean meat, cheese and grilled/raw vegetables.
Fresh fruit smoothie with unsweetened fruit, juice and yogurt along with a protein bar.
Grilled chicken salad with a whole grain bun.
Mobile lunches for the car (don't forget to bring an ice pack!)
Pasta salad with whole grain pasta, chopped raw or cooked veggies, cubes of cheese and chicken/ham/black beans and vinaigrette salad dressing. Apple or banana.
Grapes. Reduced-fat muffin. Snack size bag of nuts. Raw veggies such as carrots, cherry tomatoes and snow peas.
Rye crackers or whole grain pita/wrap. Sliced cheese and/or hard cooked eggs. Sliced red peppers and cucumbers.
Lunches at home
French toast made with whole grain bread. Yogurt or cottage cheese and fresh/frozen berries.
Grilled cheese sandwich on whole grain bread with red peppers, spinach and onions added. Fresh fruit salad.
Quesadilla made with a whole grain wrap, grated cheese, leftover chicken from supper (or black beans), green/red peppers and serve with salsa and sour cream. Apple.
Healthier restaurant choices
Small steak sandwich with bread instead of garlic toast and a side salad with vinaigrette.
Meal sized salad with salmon, chicken or shrimp and vinaigrette. Whole grain bun.
Grilled chicken breast on a bun with lettuce and tomato. Choose a side salad with dressing on the side.
Andrea Holwegner is president of Health Stand Nutrition Consulting Inc., media expert for theDietitians of Canada, professional speaker and independent consultant to Jugo Juice. To askAndrea your personal nutrition question, visit the "Ask the Dietitian" section of the Jugo Juicewebsite here:www.jugojuice.com.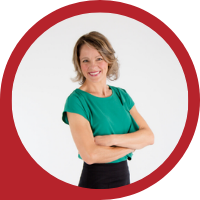 About Andrea Holwegner
CEO, Registered Dietitian, Counseling Practice Director & Professional Speaker
Andrea the «Chocolate Loving Nutritionist» is founder and CEO of Health Stand Nutrition Consulting Inc. since 2000. She is an online nutrition course creator, professional speaker and regular guest in the media. Andrea is the recipient of an award by the Dietitians of Canada: The Speaking of Food & Healthy Living Award for Excellence in Consumer Education....Read more