Helping Hungry Kids
Helping Hungry Kids Close to Home
 Each night at our family dinner table each member of my family says one thing they are grateful for. The topic of gratitude for having enough food to eat has come up in different ways. After some discussion with my 7 year old that many families struggle to put food on the table and that many kids in our city go to school hungry and unable to eat, I asked my son how he felt about asking his friends coming to his birthday party to make a donation to make sure kids in our city had lunch to eat when they go to school. At first he wasn't sure since like many kids he wanted to open up a bunch of birthday presents. As we continued to talk about how important food was for growing and learning, we reviewed some real life stories on the Brown Bagging for Calgary's Kids website and my son decided he would like to help.
Each school day, the Brown Bagging for Calgary's Kids (BB4CK) Community takes action to feed and care for over 3,200 kids in our city who would otherwise go without a healthy lunch at school. Lunches are prepared by volunteers in their main kitchen and by volunteers in kitchens across the city. Lunches are also delivered by volunteers throughout the city each day. Nourishment is available to any student who a
rrives at school without enough to eat. BB4CK works with school staff to identify needs and to plan how best to make sure hungry students get the nutrition required to grow, learn, and play.
If you want to help there are so many ways to get involved. You could volunteer in the kitchen to help make lunches, volunteer as a driver to deliver lunches, plan a snack and supply drive, host a fundraiser, decorate lunch bags, raise awareness or celebrate your birthday the same way my son did by making a donation instead of collecting birthday presents. When my son was able to visit the Brown Bagging for Calgary's Kids kitchen when he made his donation, he was once again reminded that every $1 donated feeds a kid lunch. Seeing everyone volunteering to assemble lunches and that he was helping make a difference has him convinced he will once again make a birthday donation again next year.
The gift of a lunch has a huge impact that goes far beyond a sandwich. I would encourage you to read some of the stories on the BB4CK website. For 18-year-old Kendra, lunch has given her the energy and support needed as she works toward her high school diploma. "Every Monday I am always so happy to come to school just for the food. It's so amazing to have people such as yourself helping young people like myself, giving my school food so that my brain can function during the day and giving me the chance to come closer and closer to accomplishing my education goal."
Inspired to take action? Please visit https://bb4ck.org/brown-bagging-it-day/ for more information about how you can help feed and care for kids.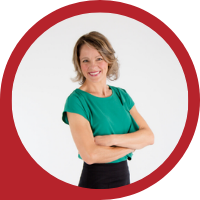 About Andrea Holwegner
CEO, Registered Dietitian, Counseling Practice Director & Professional Speaker
Andrea the «Chocolate Loving Nutritionist» is founder and CEO of Health Stand Nutrition Consulting Inc. since 2000. She is an online nutrition course creator, professional speaker and regular guest in the media. Andrea is the recipient of an award by the Dietitians of Canada: The Speaking of Food & Healthy Living Award for Excellence in Consumer Education....Read more