#ThingsNutritionistsLike: High Performance Habits Book
Our Favourite Things – Book Recommendation: High Performance Habits – How Extraordinary People Become That Way
I love my Audible app subscription, audiobooks in general and really enjoyed the book High Performance Habits: How Extraordinary People Become That Way by Brendon Burchard.
This book is an insightful look at the habits those performing at the highest level have used to reach long term success and personal well-being. The information is relevant regardless if you are trying to improve anything in your life, relationship and careers. Although this isn't a health and wellness book the principles are universal and highly relevant to getting to the things that count. I appreciated that the book principles were based on the largest survey ever conducted on high performers. I was also inspired by the fact that high performers weren't born tha
t way and age, race, gender or personality had little to do with high performance. Instead high performance correlated to 6 key factors (the first three are personal habits and the last three are social habits):
Seek Clarity
Generate Energy
Raise Necessity
Increase Productivity
Develop Influence
Demonstrate Courage
We all want to be a high performer. The big question is HOW? There are hundreds of habits you could focus on to improve your life. This book ranks the top 6 statistically significant habits important for high performance regardless if you want to get more things accomplished, increase your leadership skills, become more skilled faster or bolster your joy and confidence. Read or listen to this book if you are looking for a foundation for how and where to spend your time and energy.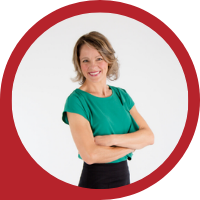 About Andrea Holwegner
CEO, Registered Dietitian, Counseling Practice Director & Professional Speaker
Andrea the «Chocolate Loving Nutritionist» is founder and CEO of Health Stand Nutrition Consulting Inc. since 2000. She is an online nutrition course creator, professional speaker and regular guest in the media. Andrea is the recipient of an award by the Dietitians of Canada: The Speaking of Food & Healthy Living Award for Excellence in Consumer Education....Read more